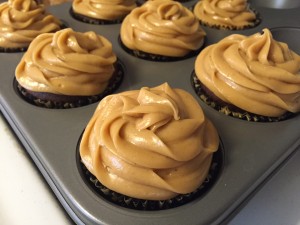 No matter what time of year it is, cupcakes are always a welcomed treat! Be it a birthday, a bbq or just a random Sunday, my vegan chocolate peanut butter cupcakes are a sure hit! Moist chocolaty goodness with creamy, sweet peanut butter, these cupcakes will put a smile on your face for sure ; )
Chocolate Cupcakes
1 1/4 cups all purpose flour (gluten free, if desired)
1/2 cup cocoa powder
1 teaspoon baking powder
1/2 teaspoon baking soda
1/2 teaspoon sea salt
1/2 cup almond, soy, cashew or coconut milk
1/2 cup water
1 tablespoon white vinegar
1/2 cup granulated sugar
1/2 cup  brown sugar
1/3 cup vegan butter, melted and cooled
1 1/2 teaspoons pure vanilla extract
Preheat oven to 375 degrees.
Line cupcake pan with paper cupcake liners.
Sift together flour, cocoa powder, baking powder, baking soda and salt. Set aside.
In large mixing bowl, stir together milk, water and vinegar. Add sugar, brown sugar, butter, and vanilla extract.  Slowly whisk in the flour mixture.
Beat for 1 minute. The batter will become smooth.
Pour batter into prepared cupcake pan.
Bake for 16-18 minutes, or until toothpick inserted in center of cupcake comes out clean.
Place cupcakes on cooling rack and cool completely.
Peanut Butter Frosting
1/2 cup vegan butter, softened
1 cup creamy, unsalted peanut butter
1/4 cup almond, cashew or soy milk (keep an extra 1/4 cup on hand in case you want a creamier frosting)
2 cups powdered sugar
Place the butter and peanut butter into a medium bowl, and beat with an electric mixer. Gradually mix in the sugar, and when it starts to get thick, incorporate milk one tablespoon at a time until all of the sugar is mixed in and the frosting is thick and spreadable. Beat for at least 3 minutes for it to get good and fluffy, adding in more milk, if necessary, for desired texture, one tablespoon a a time.
Assembling cupcakes
Place cooled cupcakes on a flat, clean area.
Add frosting to a pastry bag with desired tips for your fave design. Swirl frosting onto cupcakes, plate and enjoy!
*If you don't have a pastry bag, you can use a wide spread knife, using a 2-3 tbsp amount per cupcake. Smooth the frosting with the knife into a nice dome and enjoy!