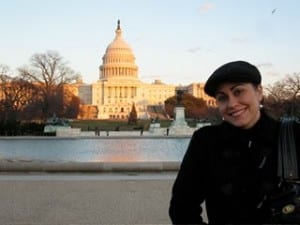 There's more! Taking a Washington D.C. vacation is a great one for families as well as single travelers. So much to see and do, it's hard not to work up an appetite after a Washington D.C. sightseeing tour. There were so many great choices for a gal like me to eat at in D.C. and I'm sure I didn't even scratch the surface. However, I did find enough to bring this part two of D.C. to you!! We stayed at a pretty swanky hotel and to my surprise, the neighborhood was chock full'o killer restaurants.
On P St and 14th there was a beautiful Whole Foods and a bunch of eateries and coffee shops that were 2 blocks from our place. I was in love

with 1 of the yummy P street places was Logan Tavern. It was a great place complete with bar and 2 dining areas with a rustic but classy vibe. They had a great beer and wine selection as well as excellent selections on the menu for peeps like me ; ) I ordered a tofu and veggie stir fry and eyeballed the veggie burrito for next time. See there yummy menu at Logan Tavern. Be sure to check out their other location, Logan at The Heights.
Just a few doors down on good old P street was Merkado Kitchen. This spicy Latin eatery was a great mix of Carribean, Mexican and South American food which was a welcomed style of menu for me since I was homesick for my native Miami that I had left about a week prior ; ) Everything was fresh as well as healthy and their veggie options were the bomb! The veggie enchilada, hold the cheese, was mouthwatering as were their salads. This establishment was great for me and my picky guy and I loved how many dishes I could choose from.
Finally, for my travel troop, it would have been a sin to them to not have fresh Atlantic seafood on their trip. Being a non-animal eater, I wondered if a seafood spot like Grillfish, would have anything for me but I was wrong! While everyone else munched on their favorite marine meal, I have a really good grilled portabella sandwich as well as an apple salad. They also offer vegetarian menus upon request. I was stuffed and I sacrificed no taste ; ) I'm hoping to get back here soon as I'm sure I missed some good feastin'!