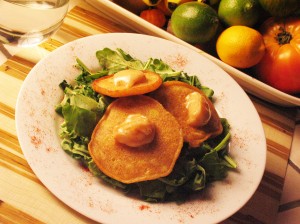 Looking for a delicious appetizer? Look no further! The gals of Spork Foods have created a fabulous dish that is sure to knock the socks off of herbivores & omnivores alike. Crispy corn fritters without that heavy, greasy feel topped off with a creamy sauce that packs a punch.  Easier then you might think, make these little babies and you'll be a hero!
Fritters
1 cup organic yellow cornmeal
1/2 cup organic spelt flour
2 tsp baking powder
2 tsp egg replacer
1 cup original soy milk + 1 tsp apple cider vinegar
1 tablespoon maple syrup
1 tablespoon safflower oil
1 tablespoon lemon or lime juice
1 tsp sea salt
1/2 tsp garlic powder
1/4 tsp chipotle powder
1/4 tsp black pepper
1 tablespoon, plus 1/3 cup neutral tasting oil (refined coconut preferred)
2 cobs organic corn, kernels sliced from cob
1/2 tsp dry dill
1/4 tsp sea salt
1/4 tsp ground black pepper
1 tsp agave
1 tsp lemon juice
Chipotle Agave Sauce
1/2 cup organic veganaise
2 tsp agave
1/4 tsp dry chipotle powder
1/4 tsp garlic powder
1/4 tsp sea salt
1/4 tsp ground black pepper
2 cups packed baby arugula or greens
In a small bowl add soymilk and apple cider vinegar. Let stand until curdled for approximately 3 minutes.
To make the chipotle agave sauce, in a small bowl, whisk ingredients together. Set aside
In a medium bowl, whisk together the cornmeal, flours, baking powder, baking soda, egg replacer, sea salt, garlic powder, chipotle powder and black pepper. Whisk until uniform.
Slowly whisk in the soymilk mixture, maple syrup, oil and lemon juice and whisk until uniform.
Heat a skillet and add 1 tablespoon oil and corn. Add dill, sea salt, pepper, agave and lemon juice. Saute until golden brown.
Foldthe corn kernels into the batter mixture and heat a skillet to a medium high heat. Add remaining oil and drop in the batter in tablespoon sized amounts into the pan. Cook for approximately 3-5 minutes on each side.
Garnish with chipotle agave sauce. Serve over a bed of baby greens or arugula.