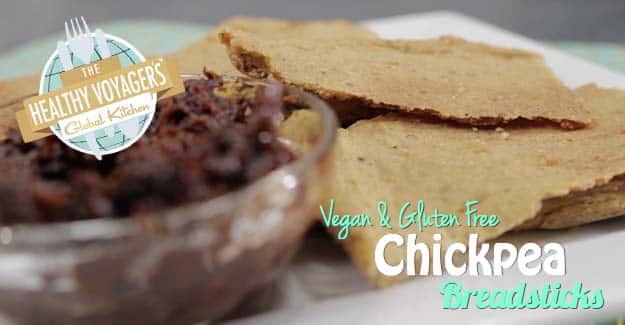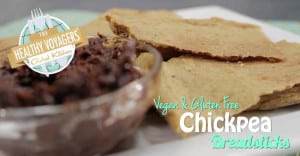 Learn how to make a fun and delicious twist on breadsticks,
Vegan and Gluten Free Chickpea breadsticks and flatbread,
on The Healthy Voyager's Global Kitchen!
Make snack time healthy and delightful while enjoying a delicious, savory vegan snack!
Watch the episode below!
Chickpea Breadsticks/Flatbread Recipe
2 cans chickpeas drained and rinsed
2 tbsp extra virgin olive oil
dash of salt
5 garlic cloves
¼ cup vegan greek yogurt (plain flavor)
1/2 cup tahini
1/2 cup vegan egg whites (1 egg white equals 1 tablespoon of agar flakes whipped with 1 tablespoon water, chilled and whipped again)
1 tsp oregano
2 tsp parsley
1 ½ tsp baking powder
Preheat oven to 375 F.
Add oil and garlic to your food processor. Chop until garlic is in small chunks.
Add remaining ingredients. Blend until smooth dough consistency, making sure all ingredients are well incorporated.
Prepare baking sheet with parchment paper. Spread dough evenly over sheet into a rectangle, making sure it's not too thick or thin in places.
Place in oven and bake for 30 minutes or so, until golden brown.
Remove from oven and let cool completely on the pan or on a baking rack (if you do not let this cool completely before cutting it will crumble).
Cut breadsticks into desired shapes, serve with dip or use as pizza crust!