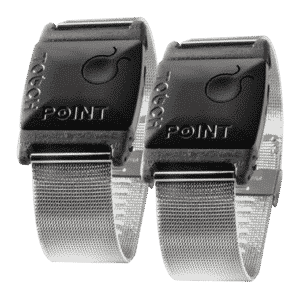 Stressed? Anxious? Have you tried exercise and meditation and massage and still seem to find yourself in an un-zenlike place? Yeah, most people do these days and it's frustrating.
Well, I've got just the thing for you! Buzzies! The Buzzies are a non-Invasive, wearable device that uses patent pending neuroscience to relieve stress in as little as 30 seconds. The Buzzies are safe for people of all ages. The Buzzies are an effective, accessible, and affordable solution to overcoming stress, anxiety, focus issues, enhance performance and sleep. Using the Buzzies for as little as 5 minutes a day results in improved focus and increased performance.
Using the Buzzies App, users can select from one of the six presettings or create custom settings using the remote.
Over the last decade, Dr Serin's work in therapy and neuroscience led to a breakthrough realization that a component of successful PTSD treatment could be used as a stand-alone product for a range of individuals whose stress and intensities hamper performance, relaxation, sleep, and their ability to cope with sensory stimuli. Using quantitative electroencephalogram data, existing neuroscience research  and archival data, she determined the device produced significant and quantifiable brain changes after just seconds of use. Buzzies use Bi-Lateral Alternating Stimulation Tactile (BLAST) stimulation to give the user a gentle vibration that affects the brain and alters the body's fight, flight or freeze response.
So, are you ready to try this revolutionary way to beat anxiety? I love my Buzzies and that's why they are Healthy Voyager Approved!