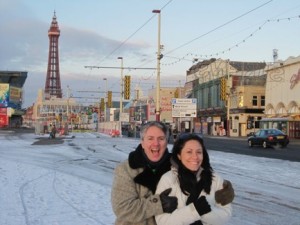 I was very excited to roll through the english countryside and head to Blackpool. Located on the northwest coast, this seaside town is a bit like English Coney Island. Beach front hotels, water parks, casinos and more, Blackpool is a great little beach resort town for northern England residents.  Unfortunately we were there in the dead of winter so no beach fun for us but getting there was a treat as it the terrain looked just like the illustrations in one of my all time favorite Christmas stories, The Snowman ; )  Our friends showed us all around town so now I'll share it with you!
Just outside of Blackpool, you will find the cute country town of Little Eccleston. In it you will find The Cartford Inn. Newly refurbished in 2007, this adorable inn is just the place for a warm meal and cozy bed. While vegan, gluten free or any other special diet isn't the most popular of cuisines in northwest England, the folks at The Cartford Inn are more then happy to accommodate their valued guests. The house chef makes everything in house with the utmost of care. Feel like royalty when you have a lavish meal by the fire then retiring to your comfy quarters for a hot bath ; )
If you happen to find yourself in town for an extended stay or an event, I highly suggest hiring Little Black Dress Catering. Owner and chef, Frances Macualey, can whip up anything you heart desires. I was blown away with her fabulous vegan offerings. I had the distinct pleasure of chowing down on her vegan curry cutlets, roasted root veggies, creamy mashed potatoes and winter squash soup. I'm salivating just thinking about it! To contact Frances for a meal that will send you into a tasty tizzy, email her at [email protected]  .
Number One South Beach is a waterfront resort with fine dining. This chic locale might seem like the least likely place for a great vegan meal however,  Number One caters to all special diets. The chef takes special care and pride in serving all of their non-omnivore guests and they do a great job of doing so. Depending on what's in season, you'll be treated right at #1SB!
I loved Blackpool and hope to visit soon after the snow and cold has gone south for the summer!