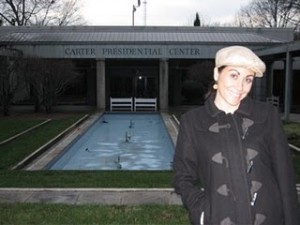 I couldn't stop with just 1 post seeing as how Atlanta had a restaurant crammed in every nook and cranny of the city so here with go with number deuce! A hipster brunch spot, a ridiculously awesome vegan gourmet eatery, a seasonal feast and a vintage diner with a modern twist, you are sure to find something you will devour ; )
Who doesn't like brunch? Ok, that was rhetorical but I'm sure I'd be hard pressed to find anyone who doesn't enjoy sleeping in and still being able to order breakfast ; ) At Ria's Bluebird you can get breakfast or lunch or both! You can also get vegan or not which was great for my sugar and me as a good vegan breakfasty brunch is hard to come by sometimes. Not only was the food yummers but the feel of the place was great. Think country diner meets hispsterville and that's bluebird. The cool Atlanta crowd with the Georgia presence and bluebird theme is a nice combo and I dug it. I also dug my tofu scramble with cilantro pesto! Not far fomr downtown, find at more about Ria's Bluebird!
Now, my barometer for convincing vegan food is my omnivorous counterpart. I've only seen him chow down, with pleasure, on a super vegany meal at 2 restaurants. Now there are 3. Cafe Sunflower made the list with their soy steak, tofu and veggie fajitas and vegan spinach and artichoke dip. I went over the edge with the moist and ridonkulously awesome strawberry shortcake!! It was stupid good, even for the non-vegan and with 2 locations, Cafe Sunflower has got to be your number 1 visit next time you're in town.
Seasons 52 is a pretty sweet concept and I had no idea it was becoming a chain. Gladly I popped into their location in Buckhead and enjoyed their winter market vegetable plate and shared a cheeseless flatbread with my boy. The menu changes weekly as the seasonal ingredients do which makes for an innovative and ever exciting dining experience. They promote healthy, organic and fresh meals and that rocks! See if a Seasons 52 location is coming to your town.
For a late night treat after some partying in the Highlands, the locals like to head over to the Majestic Diner. For 8o years this hot spot serves up southern faves and comfort foods and doesn't leave out the tree huggers ; ) I had a veggie burger and took in the interesting crowd.
The Majestic can be found at 1031 Ponce De Leon Ave NE, Atlanta, GA 30306-4215, (404) 875-0276.
You know you're a foodie when you are in the middle of one meal and chatting about your next! Because of such conversations I was able to find the last few places on my trek through Atlanta before I headed back home to the sunny west coast; )
I was told I needed to check out East Atlanta as that's where the "real" locals hang. So I did and I found Cenci. Cenci is a vegan/veggie bar and club as well as awesome restaurant. How freakin' cool!!! They are only open for dinner and most nights they have a dj. I would suggest the philly, chicken fingers, egg rolls, and collard green rolls with your jams ; ) Cenci is located at East Atlanta Village
1259 Glenwood Ave, Atlanta, GA 30316, (404) 627-0533.
Dan and I wanted to catch a flick and unwind so we found a theatre at the new Atlantic Station. Packed with restaurants, bars and entertainment, this little commune of fun had some cool places like Doc Green's and The Lobby among many more super trendy and happenin' places to eat, drink and hang. At Doc Green's, I grabbed a nice portobello wrap to sneak into my 3 hour movie. They had fresh salads, soups, sandwiches, flatbreads and more. After the movie we sauntered over to The Lobby for a nightcap and I thought my margarita would go well with some fresh guacamole and chips. It was very nice inside and seemed the quite to nightclub. You can see what else is bumpin' at Atlantic Station online.
Lastly, but not leastly, where do you go for 24 hour vegan and not vegan where the owner has tons of birds hangin' around the joint? R. Thomas Deluxe Grill is where! It's funky, to say the least, with a menu that everyone can find something they would like. For instance, I had the veggie sloppy joe wrap while my dining partners had burgers. We all were full and none of us had to sacrifice our tastebuds in the process ; )
So, for now I bid adieu to Atlanta but it, and its dishes, will not be soon forgotten!