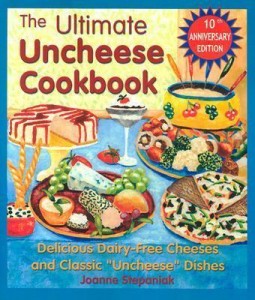 Seeing as how I'm reviewing the 10th anniversary edition,
you'll see why I believe it's a kitchen staple!
The Ultimate Uncheese Cookbook goes way back to when
vegan wasn't a buzz word or a trendy celebrity topic.
A true cookbook that isn't frill or flashy but one with simple and useful
dishes for the novice dairy-free cook to he seasoned vegan chef.
It's easy, tasty comfort food for everyone without
a bunch of kooky techniques and ingredients.
Here are just a few of my faves:
Gee Whiz Spread
Port Wine Uncheese
Hot Parmesan Artichoke Dip
Salsa Cilantro Cheez Sauce
Zucchini Chedda Soup
Classic Fondue
Broccoli Pesto Pasta
Broccoli Strudel
Blintzes
Tetrazzini
French Bread Pizza
Guacamole Grillers
Cheezy Popcorn
Chunky Roquefort Dip and Dressing
Pumpkin Cheezcake
Mocha Fudge Pie
And more!
So if you're just starting out or looking to re-create some of the favorite dishes and cheeses you grew up with,
The Ultimate Uncheese Cookbook is for you!
If you liked this article, you may also like: