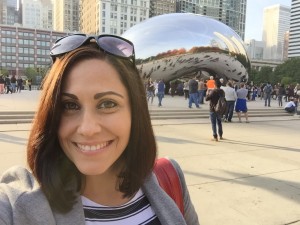 The City's award-winning Riverwalk transformed Chicago's riverfront from an industrial area into a waterfront wonderland worth exploring.
From water activities to art museums, there are a variety of fun things to do along the river day in or night out.
Below we unpack 7 cool things to do on the Chicago Riverwalk for a real Chicagoan experience. 
Go For A Walk
It may seem self-explanatory, but the Chicago Riverwalk has so much to offer, and sometimes it's better to explore on foot. You have 1.25 miles between Lake Michigan and Lake Street to choose from. 
An urban canvas of permanent and pop-up art awaits – music performances and festivals, live entertainment, and lakefront activities on the go. All the more reason why Chicago is a perfect summer travel destination.
Should you prefer an evening stroll between March and December, be sure not to miss Art on theMART, the largest digital art projection in the world. Beaming with night lights, it's sure to bring a sense of wonder.
As for eats and treats? From cafes to fine wines and bars in between, be sure to explore at least one per day on your stay, including the Chicago Three.
Waterfront views set the scene for an unforgettable experience from floating tiki bars to fine dining on the Odyssey Chicago River. A unique lunch, brunch, or dinner cruise in the state-of-the-art glass-enclosed vessel is a special occasion all by itself.
Chicago Boat Rentals & Kayaking
For a personalized adventure on your own time and leisure, look into boat rentals in Chicago. You can rent whichever vessel floats your boat and create the most memorable blue-water experience.
Keen to kayak down the Chicago River?
Paddle your way with a whole new perspective on the meaning of a skyscraper canyon. We recommend a guided excursion to get the best information about the city and its rich history. 
Bird Watching 
There's something special about bird-watching against a background of soaring skyscrapers. 
A variety of bird species call Chicago their home including Peregrine Falcons that hunt at extraordinary speeds through this concrete jungle. 
The Jetty is a great place to start for bird watching in the city. Audubon Great Lakes hosts a monthly birding walk along the Chicago River and will give you the best bet at finding some rare species. 
Go Fishing
Get yourself an Illinois fishing license and some fishing gear. The Jetty on Wacker Drive and Lake Shore Drive are fishing-friendly spots where you can cast your line and relax while taking in the scenery. 
Enjoy A Bike Ride
Bicycles and tricycles to suit every person and occasion are available to rent along the Riverwalk, but some areas are pedestrian-only so please plan your journey accordingly.
Visit The Community Marketplace 
The Community Marketplace features vendors from all over the city.
The rotating cast includes local restaurants, artists, and other small businesses. One of the best ways to socialize Chicago-style, it offers a tangible taste of local produce, products, and productions.
Discover Chicago's Architecture 
Whether you prefer an architectural boat trip or a walking tour, this is another absolute must.
The Chicago Architecture Center is your door to discovering the city's legacy. Their tours, programs, and interactive exhibits will up your architectural awe in no time.
Walk away with a new perspective on Chicago's rich architectural background and innovations.
Their popular presentation aboard Chicago's First Lady combines a highly effective combination of pleasure, leisure, and learning. Tours on the river include detailed narratives by knowledgeable docents discussing the various architectural styles and stories of Chicago's most iconic buildings.
Explore Monuments & Museums 
The McCormick Bridgehouse & Chicago River Museum is a historic landmark not to be missed. This five-story structure is worth exploring all the way from its gears rooted deep in the river up to the very top with a 360-degree view of the city.
Whether you choose to have a look into historic maps, photos and articles, explore the technical aspects of massive moving bridges on the way up, or simply climb to the top for the breathtaking view.  
For any trip to be adventurous, it needs to be hassle free. Extra bags cause inconvenience while you plan to explore. In Chicago, you can store your bags, roam around and then pick them once you are back. Vertoe is spread widely near all major landmarks, train stations, Chicago union station luggage storage, airports, etc.