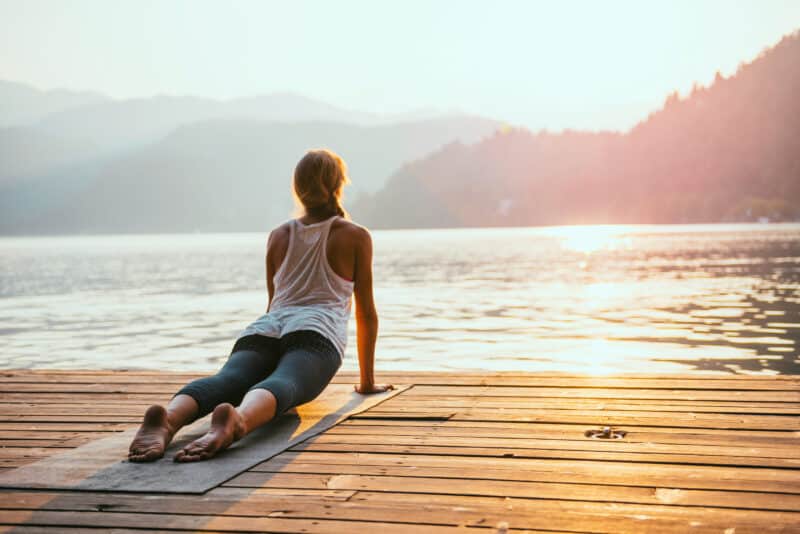 If you've ever done downward dog or child's pose, then chances are you've practiced yoga. Yoga is an ancient practice that comes from the Sanskrit word " yuji" meaning union. It has many benefits to your physical and mental health as well as your overall well-being. Read on to learn more about 7 essential benefits of doing yoga. 
Decreases Stress And Anxiety 
There have been multiple studies that prove that yoga has many benefits for stress and anxiety. There are actually results that show a reduction in cortisol (the stress hormone) after participants went to yoga for a month or more. It is no wonder yoga would be well suited for someone who is stressed out, as it requires a lot of mind to muscle connection. In turn, yoga promotes extensive breathing to ensure each pose or sequence is performed correctly in a "flow". 
Yoga can potentially help correct posture issues caused by sitting all day. Yoga incorporates many movements that help with core strength and back strength. The core is extremely important when it comes to posture and movement. If your core is weak, then the rest of your body will suffer. Yoga centers a lot of movement around the core including postures such as plank, chaturanga, and downward dog. 
Excellent For Your Cardiovascular Health 
Participating in yoga slows down your heart rate and helps you relax which can be beneficial for those that struggle with high blood pressure. According to expert studies, participants over 40 who did yoga for five years had lower blood pressure than those who did not. One additional theory to why it is helpful to people with heart problems is the idea that stress is a contributing factor to heart disease and yoga tends to decrease stress. There are also studies that support the fact that yoga reduces the bad types of cholesterol. 
Improves Flexibility And Balance 
Clearly, yoga has strong benefits for flexibility and balance. Depending on the particular type of yoga you take, they may be more centered around balance than others. Additionally, the stretching component of yoga helps to increase flexibility over time. For athletes who need that extra stretching component added to their routine, yoga could be the best answer.  
People who have done yoga note an improvement in sleep quality. There are theories that yoga helps with the release of melatonin, the hormone that helps you fall asleep and wake up. Because yoga practices relaxation and requires breath control, it could also help participants relax their bodies and unwind when they otherwise would not. 
After a yoga class, you will walk out feeling accomplished, confident, and at ease. Pick out your favorite sustainable athleisure, sign up for a local class, and get moving!  
Yoga Connects You With A Supportive Community 
What better way to connect with others than through a hobby or sport you love. If you meet others in yoga, you can guarantee that they'll have a similar mindset as you. Yoga creates an environment that promotes healing and eases loneliness.