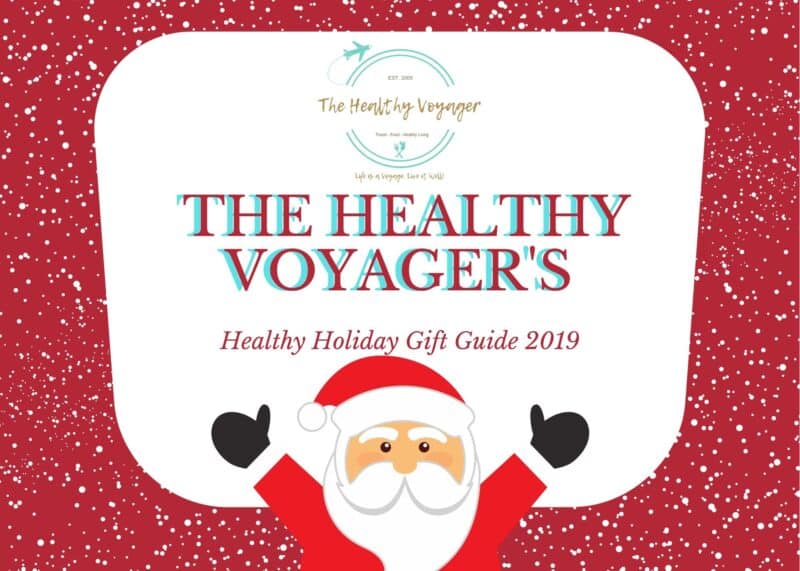 Happy Black Friday! Now that Thanksgiving is behind us, it's time to focus on the holidays ahead as well as checking all the items off your shopping list.
Good thing I have my annual healthy and eco holiday gift guide so you can do it all from the comfort of your own bed or couch while being able to enjoy all the "hygee" of the holiday season!
From the loved ones in your life to your neighbors, coworkers and even fur babies, you are on the hunt for that perfect gift for everyone on your list. Eco,  healthy, green and even budget friendly (and mainly online shopping so it's time saving too!) there is something for everybody from stocking stuffers to large gifts and maybe some goodies for you!
Obviously be sure to check out The Healthy Voyager Store for great travel, eco and healthy gifts, tees and stocking stuffers!
So without further adieu, here are The Healthy Voyager's holiday gift picks for 2019!
Charity
(To give instead of receive)
Farm Sanctuary – Animal rescue, education and advocacy
Society Socks – Super cute sock subscription company that gives back
BunnyLuv – A fabulous rabbit shelter and resource center
Toys for Tots – Bringing joy to children in need
Operation Homefront – Helping our military servicemen and women
Habitat for Humanity – Homes for those in need
Healthy Weight Commitment – Working to end childhood obesity
Travel 
(For the globe trotters you'll be gifting)
ReliefBand– Perfect for cruises and road trips to keep you sickness-free without medication
Noize Original – Super stylish vegan jackets, coats and bags
Lo and Sons – Eco travel bags in all styles and sizes
ili – Incredible instant translation device to make communication with locals a breeze
Luca Chiara – Vegan bags from purses and wallets to from carry on bags to full on luggage
Zhiyun Gimbal – For those who want to take the best travel shots and videos
XO(Eco Collection) by Lauren Conrad – A hot, eco-friendly collection of all things travel and food
Totseat – For the traveling parent on your list
Travel Tools Keychain – Be prepared anywhere in the world
Take Charge Travel Case – Keep all your pluggy plugs snug and in 1 place
Green Garmento – Your eco travel and laundry bag
Her
(For the ladies be they young, moms or busy bees)
Gunas Vegan Bags – Gorgeous vegan handbags every gal is sure to love!
Dafni Hair Brush Straightener – Straighten your hair while you detangle and brush
Inkkas Shoes – Great eco and vegan shoes from travel and hiking to day and night
Koa Hawaiian Wood Jewelry – Cool jewelry for the gal who loves Hawaiian bling
Brilliant Earth – Eco friendly jewelry for various budgets
Mink Shoes – Gorgeous vegan shoes
Vaute Couture – Hot vegan style
Rich Hippie Perfume – Eco alchemy
Him
(For the men on your list, both young & old)
Mustache Cufflinks – For the guy who likes a classy gag
Unstitched Utilities – Fabulous green and cruelty-free shoes that keep your dude comfortable and stylish.
Dizm Eco Herbie sunglasses – Fully renewable and biodegradable shades
Brent Haven Stainless Steel Wallets – Eco and vegan wallets made from stainless steel fabric
North Wood's Organic Shave Set  – Nothing smells better than a green organic dude
Street Sign Book Ends – Stop in the name of literacy
Wood Tie – Bet he doesn't have one of these!

Unisex & Couples Gifts
(For anyone or any duos)
Well Told Designs – Beautiful glass, drink and serveware with maps from cities around the world
Trouva – Great stuff for everyone on your list
Portable Wine Table – Vino for 2 to go!
Save the Duck Jackets  – Cruelty free, eco-friendly, synthetic "down" jackets to keep guys and gals warm all winter long
Essential Oil Best of the Best Set – Great for health and even just smelling good
Eco Home Starter Kit – To get the clean home the eco way
Dharma Co. – Super stylish prescription glasses frames
Half Full Glassware – Drink positively
Finger Foods Party Plates – Keep the conversation going with the one handed party plate
Island Picnic Home Decor – From eco throw pillows and beyond, do you your house the green way
Sustainable Wood Candle Blocks – Stack up your flames
Upcycled Mail bag Ipad case – Email protected by snail mail
Hypoallergenic Bed Lounger – Comfy, healthy and green
Kids
(Babies, teens & all in between)
DoodleBread Kits – Cooking for kids is fun!
Mam – The best in baby and toddler must haves
Polarn O. Pyret – a leading children's clothing brand in Sweden since 1976 takes pride in offering everything a child would need year round (a hidden secret here in the US)
Roominate – Not your mom's dollhouse
Juniorbeads – safe and adorable jewelry for kids ages 3+
Toy Nanny – Great toy bag and mat for moms and babies alike
Plan Toys Eco Town – Play towns town that run on environmental initiatives
Little Blueprint – "have a plan" book series designed to help kids through life's tough changes
Curious Chef Knives – Teaching kids how to chop food instead of their fingers
EcoZoo Cotton Kid's Rolling Backpacks – Green and cool and good for little spines
Eco-friendly Solar Powered Bamboo Doll House – Imagination plus green equals awesome
H Racer 2.0 – Hydrogen powered solar race car
Wonder Walker – Literally learning how to make a small carbon footprint
Pets
(For all furry babies)
Humunga Stache – Fido gets a toy, you get a laugh
Recycled cardboard cat scratcher – Keep your kitty scratchy
Fleece Pet Bed – Comfiness for your fur babies
Natural pet stain remover – For fur baby parents
Caesar's Way Flash cards – Get your doggie trained with the help of celeb dog whisperer
Earthbath wipes – eco and vegan wipes for doggies and kitties
Cardboard cat chalet – Eco kitty
Felt Mushroom Birdhouse  – Their own fungus to call home
New Parents
(For parents-to-be and beyond)
aden + anais – complete family lifestyle brand based off of their original and beloved muslin swaddle
Leeo Smart Alert Nightlight – The Leeo Smart-Alert™ Nightlight is a "plug and play" device that provides 24/7safety and wellness monitoring for the home. The product is designed to recognize smoke and carbon monoxide (CO) alarms for any pressing dangers like a fire or gas leak, as well as provide room climate monitoring.
ACE Baby Furniture – adorable mobile furniture for nurseries
Belly Armor – Radiashield technology helps protect moms and babies from everyday radiations; belly bands, blankets, tees, and nursing covers
Cake Lingerie – beautiful line of maternity and nursing lingerie
Chewbeads – mom-chic, baby-safe jewelry made of 100% silicone
Mixie – revolutionary formula bottle that allows you to fix a bottle now and mix and use it later
PaigeLauren Baby – ultra-soft baby and kids' clothes designed and produced in Los Angeles
Pelv-Ice – first ever device to help soothe postpartum trauma and improve the healing process for women and men (especially after giving birth or other surgeries)
Baby Bjorn Organic Babysitter Balance – Bounce baby the green way
2-in-1 Diaper Depot – This innovative nursery must-have is designed to make diaper changing safer, quicker, and more convenient by providing everything you need at your fingertips
Bumbleride Flyer Pram – One of the best, easiest strollers money can buy
Rockin Baby The Orange Hero Baby Carrier – Hold baby close in this eco-friendly sling
Skip Hop Dash Diaper Bag – Hold you and your baby's stuff in style
Balboa Baby Nursing Pillow – For eco, hands-free nursing
Born Free Tru-Clean Sterilizing System – All-in-one design includes sterilizer, dishwasher basket, and drying rack.
Health & Beauty
(For all aspects of health & vanity)
SoundsTrue – incredible online tools for self help, healing and mindfulness
Alen Pure Air – Incredible, stylish and beneficial air purifiers for home and office to help lessen and prevent the symptoms of allergy sufferers as well as keep the environment clean for everyone
Alima Pure – All natural vegan makeup
Spire – Get mindful this year with ease with this cool wearable tech
Tushy – Get super clean with this easy-to-add-to-your-existing-toilet bidet system
Darling Salt Glow – All natural salt scrub for awesome skin
Toilettree Facial System – Awesome facial and body brush for glowing skin
KR Detoxfoliant – Amazing detoxifying body scrub that smells great and is great for you!
Green Esthetics – Eco lash goodies and Argan oil for fab hair
Ava Anderson Non-Toxic – Cruelty free skin, body, baby and home care without chemicals founded by an enterprising 14 year old girl!
Sparitual – Cool vegan nail polish
Violight Toothbrush Sanitizer – Clean the thing that cleans your teeth
Level Naturals – Delicious vegan soaps, scrubs and bath products
Pure Formulas – Your one stop shop for all your health, wellness and supplement needs
Plantlife – Yummy vegan soaps, lotions and skin care
Elan Veda – Natural ayurvedic products
Naturopathica – all natural, organic, vegan skin care
Fitness, Adventure & Sport
(For the fitness sport & adventure nuts on your list)
Blix Bike – Save money and the environment with this stylish electric bike
MyYogWorks.com – Online yoga class membership to do anywhere, anytime
Kulae Yoga Gear – Eco, organic yoga mats and gear
Taylor Smart Scale – Bluetooth enabled digital scale that syncs to your smartphone fitness apps
Goal Zero Solar Chargers – Outdoorsy folks who want to keep all their gadgets juiced will love these products!
Vegan Football – Fair trade and vegan tackling is just as bad ass
Cork Yoga Bricks – Make your triangle greener
Powerbreather – Work out your lungs
Home & Lifestyle 
(For cool home and miscellaneous goodies)
Reusable Double Wine Tote – Carry 2 bottles at once comfortably
Ring Video Doorbell – Keep your home safe and know who is at your door, no matter where you are
Intellibed – For the best, healthiest sleep of your life
Dyson Cord Free Vacuum – Clean your house with ease and style, no strings attached!
Zabada – Chemical-free cleaning supplies for a microbial free home
Della Casa Home Fragrance – Help mom's house smell fabulous with all natural, zero yucky ingredients,home fragrance sprays.
iGozen – Reusable bottles and all natural, eco-friendly, organic cleaning products to keep mom's  house spic and span!
MudPie  – Gifts and tableware for every occasion
Bamboo Potted Herbs – The gift of home gardening keeps on giving
Rose Stem Cutter – Taking the pain (physical and mental) out of trimming your roses and flowers
Cast Iron Tool Bottle Openers – Make drinking look like a tough job
Snow Ski Wine Rack – Sporty and functional
Cooking & Kitchen
(For the novice to the pro)
Eco at Heart – Super cool reusable metal straws
The Healthy Voyager's Global Kitchen – Cook your way around the world the healthier, plant based way
Ceramacor – Great ceramic cook and bakeware
Perfect Bake – Get your baked goodies right every time!
Prep Pad – Digital smart food scale that syncs with your phone
Nespresso – The coolest, all-in-one espresso and latte machine for home coffee lovers
Zoku – Fabulous single serve ice cream and popsicle makers the whole family will enjoy
NuWavPic – Portable induction cooking that saves energy while being safe and effective
Naturemill Composter – Make use of your tossed out food
Cuisinart Stick Hand Blender – Soups, sauces and purees have never been so easy
Waring Pro Wine Preserver – Preserving your most precious libations
Epicurean Gourmet Cutting Boards – Gorgeous and green
The Baking Mats  – Silicone, heat resistant and no oil requires
YoNanas – Making ice cream out of bananas for that sweet, healthy treat
Smoking Gun – A cool gadget to smoke all sorts of foods the easy way
360 Cookware – A cool, eco, healthier way to cook
Digital Spoon Scale – Taking the guesswork out of measuring, once and for all
Homemade Stamp – Claim those baked goods!
Slimware & MeaureUp Bowls – Stylish and discreet portion control plates
Stocking Stuffers
(small gifts that pack a punch)
Silicone Pasta Rake – Keep you pasta from sticking, the healthy way
Glee Gum – All natural gum and gum pops, perfect for all ages
Tuffy Steepware – BPA free, travel tea steeper
Spatulart Holiday Spatulas – The cook on your list will love these festive holiday spatulas
Scoop and Spread – Multi functional and cool
Tabletop Citrus Reamer – Fresh squeezed citrus at the palm of your hand
Twist Whisk – This compact whisk will surely be a fave in the kitchen

Food & Beverage
(For gifting with a smile)
Veestro – Vegan food delivery from breakfast to juices, entrees to side, delivered right to your door
Food Stirs – Great baking kits made with wholesome ingredients to bring the whole family into the kitchen
Spiceologist – Organic customizable spices in a cool chemistry set display
Maille – Gourmet mustards, perfect for the discerning palette
Dosha Pops – All natural Ayurvedic lollipops, perfect stocking stuffers
Vegan Iron Chef Gift Boxes – For the vegan foodie on your list!
CalNaturale Wines – Organic carton wine rules
Pipernilli – Awesome vegan gourmet cookies
Vegan Vine Wines – Drink and be merry with vegan wines
Miyoko's Creamery – Gourmet vegan cheese is perfect for any holiday celebration
Veestro – Great vegan meals delivered to your home, office or hotel
Numi Artisan's Tea Blending Kit – For the tea lover on your list
Fungus Among Us – All things organic mushrooms
Garlic Galena – Fabulous gourmet garlic foodie finds
Vegan Gourmet Caramel Corn – A veganized holiday classic
Vegan Cookie of the Month Club – Need I say more?

Services, Subscriptions & Classes
(For the gift that keeps on giving)
Vegan Cuts – A surprise box of vegan goodies at your door every month!
Personal Training – Find your trainer online and get fit anywhere, anytime
Rouxbe Plant Based Certification – Learn how to be a plant based chef in your own kitchen!
PlanetBox – eco-friendly and health-conscious lunch boxes, really great for back to school or Earth Day
Googaro Toy Subscription – Subscribe to the awesome service that gets your baby the coolest toys and products without commitment to keep buying
Honest – For the new, healthy and eco minded parent
Personal Wellness Coaching – Get healthy and fit in 2012
Wellness Coaching Certification – Make 2012 the year you follow your passion
Online Gardening Classes – Develop your green thumb this year!
Online Stores
Bourgeoise Boheme – Fashion with compassion
Herbivore Clothing & Store – Vegan clothing, books, accessories, nick knacks and more!
Uncommongoods.com – All kinds of neat and off the wall gifts
Vegan Collection – All vegan shoes, wallets and belts for men.
Scarves.com – Everyone loves a pretty, eco scarf this time of year
Ties.com – Every man could use a great green friendly tie
Moo Shoes – Lovely vegan shoes for ladies
Earth Shoes – Eco, vegan shoes for men & women that promotes fitness
Toms Shoes – A pair for you also gets you a pair to someone in the world who needs them ; )
Viva Terra – Eco living with style
GreenLoop – Sustainable style
I hope this list helps make your holiday shopping easier and merrier while making your holiday giftees happy, healthy & green!!
Happy Holiday Shopping Days!!