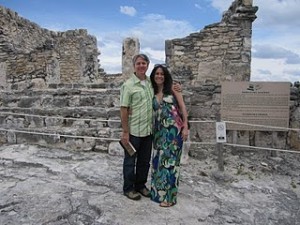 Nothing screams honeymoon like lying on the beach, soaking up the sun, eating to your hearts desire with a drink in your hand. A drink with an umbrella in it, of course ; ) We decided to go south of the border for some sun as well as some adventure as we knew that the Yucatan had plenty of it. I'm not much for sitting around the beach for a week  so I'm glad we picked a spot that had tons to offer outside of the beautiful ocean.  So much history, great food and great fun, I couldn't have asked for a better place to get away with my new hubby!
On our first evening, of course I wanted Mexican food so we went on the lookout; ) Oddly enough, it was tough to find!! The Cancun area is pretty much the U.S. Laden with American chain restaurants, I refused to partake and hunted down the first local(ish) spot I could. Taco Grill satisfied my craving for local fare and exceeded expectation. A cute outdoor eatery, on the bay, Taco Grill served up some great veggie options. My dinner was complete with a large helping of fresh guacamole, a nice sized marg ; ), and the best grilled veggie burrito I've ever had! It was oozing with sauteed veggies, mushrooms, avocado, beans and delicious sauce. I'm craving one right now! Taco Grill is located in the La Isla Shopping Center.
Now, you wouldn't think that going out for Italian in Mexico would be a good thing but Limoncello was great! Right across from our hotel was this cute, fine dining-ish, locale, right on the water. They even have a private gazebo on a dock for special occasions – very nice! I was delighted that they had my favorite dish, Gnocchi, and I was able to get it with a really great tomato sauce. their bread was a nice touch as well as it came out like a flatbread on a griddle – warm and melty ; )  We really enjoyed the food and the ambiance of Limoncello so don't fret about getting some variety.
If you're looking to do some tequila tastings while enjoying a flavorful, waterfront meal, then La Tequileria is the place for you! So veggie and special diet friendly, I really enjoyed the live music and varieties of their local beverage ; ) Their salads are all veganizable and mega tasty and there's no denying yourself some guac and chip!
I need of curbing a sweet tooth, I stumbled upon Ah Cacao, an all chocolate cafe! And I was able to partake as they could make the cacao goodness vegany. I got a soy Mexican hot chocolate and it ruled! The company is super green and offers the best quality cacao products from the Mayan regions. See, chocolate can be green, helpful and healthy!
Nothing shows the magnitude of the health movement like finding a natural foods restaurant in the heart of Mexican part town. Natura is located on the main drag of Cancun and offers up all sorts of natural dishes, fresh juices and a ton of vegetarian options. Even though it was crazy hot out, I had to try their veggie soup and I followed that with insane vegan nachos. I also imbibed a super green juice and was very happy that I could get one anytime as it was in walking distance of our hotel ; ) Stop in for a healthy meal at Natura – Boulevard Kukulcan Km 9.5, Zona Hotelera, Cancún. 77500
Mexico Tel +52 998 8830585.
There's way more to come as I have more rave reviews for Cancun and the surrounding cities in the state of Quintana Roo!