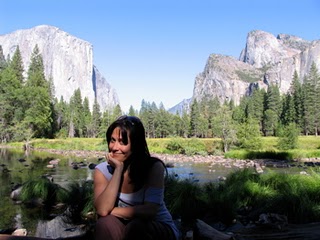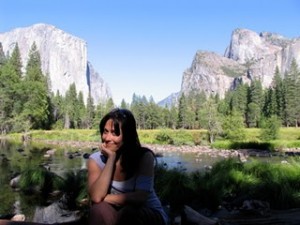 What can I say about Yosemite that you don't already know but WOW!! It really is breathtaking and I wish we had had more time but I'm sure we will be back soon ; ) From the short time we spent there, I still squeezed in time for a meal and did some research for next timehttp://www.blogger.com/img/gl.photo.gif!
We dropped into Curry Village to grab some souvenirs and in the gift shop they had scrumptious vegan cookies!! They also have a food courtish type commissary that had Mexican food, pizzas and a bunch of other lunch treats. I had a veggie tostada salad that was enormous and the guacamole was pretty damn good! Yosemite Village, like Curry Village, is inside the park, also has snacks and great selection of soups and salads.
If you want to live the high life at Yosemite instead of roughin' it outdoors with them there bears, definitely try a night or 2 at the Ahwahnee Hotel. Their main dining room has a gourmet menu that doesn't forget about those who chow on greens. They have soups that are veggie based, tasty salads and scrumptious entrees like pasta carbonara. They are great about labeling what is available veggie style!
At the Yosemite Lodge, their Mountain Room Restaurant is a vegan and organic haven. From vegan soups to quinoa based entrees, this is a nature lovers paradise and a must if you visit the park.
Just outside the park is the Wawona Hotel and dining room that also happens to be very veggie friendly. Fresh soups, salads and an assortment of veggie alternatives are always in season at this Victorian beaut of a lodge.
So if you are camping, be sure to bring lots of healthy goodies to sustain yourself during your explorations and lock them up good so the fuzzy wuzzy bears don't get to them first! But if they do, there is a nice size market in the park where you can re-stock. But even if you are roughing it, be sure to take a break and pop into one of Yosemites fine dining halls and eat up!!! Nature never tasted so good!!