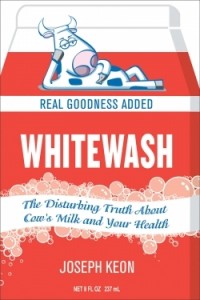 For those who have been chatting up the dangers of dairy products to loved
ones, for those who have been toying with the idea of going from vegetarian to vegan and even
for skeptics, Whitewash is the book for you!
White wash does for dairy, what The China Study and Forks Over Knives
have done for veganism and overall health.
This book goes all out in showing you scientific facts, case studies
and more regarding how milk does in fact, NOT to a body good.
Author Joseph Keon makes no apologies for
his information and does a fantastic job in showcasing it all in an interesting
read that will leave folks speechless when they are through.
From debunking the calcium myth to tying dairy to a huge number
of fatal disease, Whitewash is not to be missed if you
are looking to lead a healthier life!