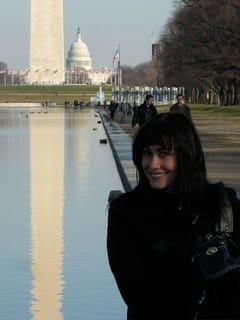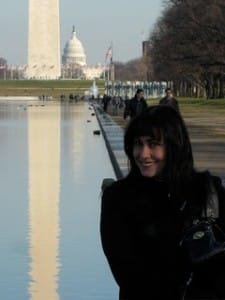 What a year to be in the nation's capital. Mighty and awe inspiring by it's own right, being there during an election year was even more incredible. And with all of this history and power in one place, you can imagine it has to offer some killer dining to impress the world's dignitaries. Beyond the great sights, I was even more overcome by the great places to fill my tummy in D.C.! So much that next week's blog will also cover D.C. ; )
Since we walked most of the time while we were in town, I got to see so many cute cafes and places that I wanted to try. However, since we were only in town for a few days, time was of the essence so our meals during the day were pretty quick. Pizzeria Paradiso was just the place. This pizza hot spot has two locations and they are always packed. As so they should be since the food looked, smelled and tasted so good. They are famous for the gourmet, true to the motherland pizza pies and the Healthy Voyager was able to enjoy every bit of that as they offered a tasty Soy Mozzarella. I topped with a ton of fresh veggies like artichokes, spinach, basil and more. I was a happy camper taking my food to go and eating my yumminess on the run. Find out more at Pizzeria Paradiso.
Later that evening we joined up with some friends for cocktails and tapas. We strolled along U street and stumbled upon Tabaq Bistro. And what a happy accident it was! The atmosphere was insane as they had rooftop dining with full views of D.C. It was hazy and cold but the buildings and neighborhood looked great from up there. The food and drinks also matched the wonderful look and vibe of the place as well. The menu was Mediterranean tapas and small entrees. There was entire veggie menu for me to choose from as well as many other dishes for my buddies. I ordered from the small dish menu, the dolmas and 1 of their 3 hummus selections. I absolutely recommend anyone stop in to Tabaq no matter who they are with ; )
Now I will share with you my D.C. addiction ; ) Sticky Fingers Bakery was such a good time for me. So much so that I visited them and went out of my way to buy something from this cafe every day that I spent in town. The spot is a cool wi-fi cafe with a ton of great vegan baked goods from cupcakes to cinnamon rolls and more. They have soft serve vegan ice cream, a build your own vegan hot dog stand as well as a freezer case with savory sandwiches, small plates and other side dishes to go. I had a vegan sausage, egg and cheese mcmuffin every morning. They do mail order as well so if you don't get to d.c., they can come to you!
Lastly, but not leastly, we had a date night at Vegetate. This place was so hipster and chic and had a good thing going as they had a bar upstairs that offered vegetarian bar food during happy hour along with a cool dj spinning tunes. The dining area downstairs is a bit more reserved but nice nonetheless. The menu changes every day and is very nontraditional, gourmet and artistically presented. We enjoyed what we ordered but I did leave hungry. However, I wish I could have gone back for the veggie bar food at happy hour and I suggest you give it a try too. Peruse their site at Vegetate.
See you next week with some more D.C. dining!