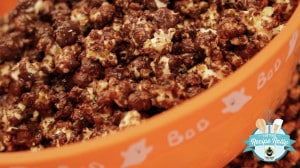 Boo! Halloween is almost here!
Learn how to make a super fun, spooky yet healthy
treat, Vegan Trick or Treat Popcorn!
See how on The Healthy Voyager's Global Kitchen hosted by Carolyn Scott-Hamilton
and special guest, the Vegan Food Share Unicorn!
Get your dose of Halloween treats early with this fun, chocolatey, caramelly, healthier and easy recipe by The Healthy Voyager!
Watch the video below!
Vegan Trick or Treat Popcorn Recipe
4 cups already popped popcorn
½ cup pure maple syrup
½ cup creamy unsalted raw almond butter

⅓ cup coconut oil

2 teaspoons pure vanilla extract
¼ teaspoon fine grain sea salt
1 pound bittersweet chocolate, tempered (or Sunspire Fair Trade Organic Chocolate Chips)
To make the caramel: Add all ingredients to a small saucepan. Whisk together over medium low heat until all ingredients are melted together (approximately 3 minutes). Remove from heat and let cool to room temperature.
Melt the chocolate in a double boiler.
Place the cool popcorn in a large bowl. Use a ladle to drizzle the chocolate over the popcorn, stirring with a wooden spoon as you go. Keep adding chocolate until the popcorn is evenly coated. Pour the chocolate-coated popcorn onto a parchment paper lined baking sheet and allow it to cool.
* This recipe is part of the #BeFair Fair Trade Recipe Rally