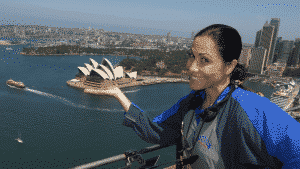 I'm so excited to finally share my Australian adventure with you!  I fell in love with the land down under what with its natural beauty, the wonderful people and yes, of course, the vegan food! In Australia, every day was filled with incredible surprises that I'll be sharing with you! And first up, Sydney!
Sydney is breathtaking! From the Sydney Opera House and Harbor Bridge to the Royal Gardens and Westfield Tower, it's a beautiful city with wonderful views, parks, history and fun things to do. It's an iconic city and it absolutely lives up to the hype!
I had the pleasure of being sponsored by my friends at Roomorama for my Australia trip. I worked with them during my month in Europe so it was a no brainer to partner with them while in Oz! Similar to other online vacation rental sites, Roomorama has rentals from couches to full houses, all over the world. Choose your location, budget and needs, and bam, you've got an ideal place to rest your weary head while away from home. In Sydney, I had a beautiful apartment, right on the harbor with fabulous views and a great renter (we're buddies now!). It's perfect for budget and health conscious travelers as being able to rent a flat with a kitchen helps save money and calories while spending less a night for more room than a hotel.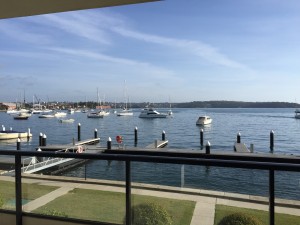 Now for experiences, nothing beats doing the Sydney Harbor Bridge Climb! A minimum of a 3 hour tour takes you to the summit of one of the world's most iconic structures so that you can enjoy the view of one of the world's most famous harbors. My tour guide was terrific and made the hike even more fun. Packed with info about the bridge as well as a fun crash course in Australian history, the bridge climb is an experience I will never forget. I didn't want it to end! Just so you know, it's amazingly safe and pure exhilaration!
Ok, now for some food and vegan eats are in abundance in Sydney!
For a tasty, organic raw food meal, head over to Sadhana Kitchen. In what I would say is the very vegan-friendly, hipster part of town, Sadhana is a casual dining locale with gourmet raw food. I popped in for brunch and loved their french toast as well as their kelp and zoodles dish. They also offer juice cleanses, lunch delivery, classes and all sorts of things to live a healthier life in the city. A great place to dine in between sightseeing pit stops!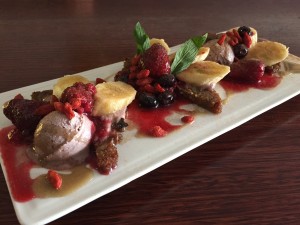 With a number of locations around the city, Iku Whole Food is a great place to grab a healthy meal no matter where you may be in town. Their food is made from scratch daily, made with all organic, non-gmo, plant based ingredients and macrobiotic. Their offerings range from brekkie to dessert and much of it is great for on-the-go eating. Their lasagna is fantastic as are their small bites like their sweet potato and rice balls so no choice is a bad one. I love their mission and their meals and would love to see them expand to the states!
You can't go to Sydney without spending time at the famous Bondi Beach. For surf, sun and sand, it's THE beach to check out nearest to the city. And if you get hungry, Funky Pies has you covered. Pies are an Australian staple from savory to sweet and Funky Pies veganizes some Aussie faves like "chicken" and cheez or even curry. I loved the Funky Chunky and Tuscan Pies and then took a vegan milkshake to go, or take away, and headed off to the beach!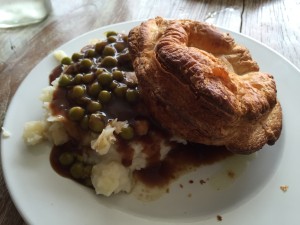 I love finding vegan markets in cities around the world and was very happy to find the Cruelty Free Shop in Sydney. It was perfect to stock up on snacks and natural toiletries to keep me going for my month long Australian excursion. They had great products from vegan cheese to produce as well as perfumes and lotions and even purses and fund vegan goodies. A great place for a snack or a full on stock up! Even vegan soft serve!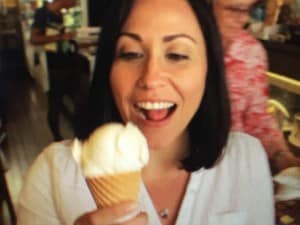 Alright, this is not it for vegan restaurants Sydney so stay tuned for part 2 next week! Cheers!