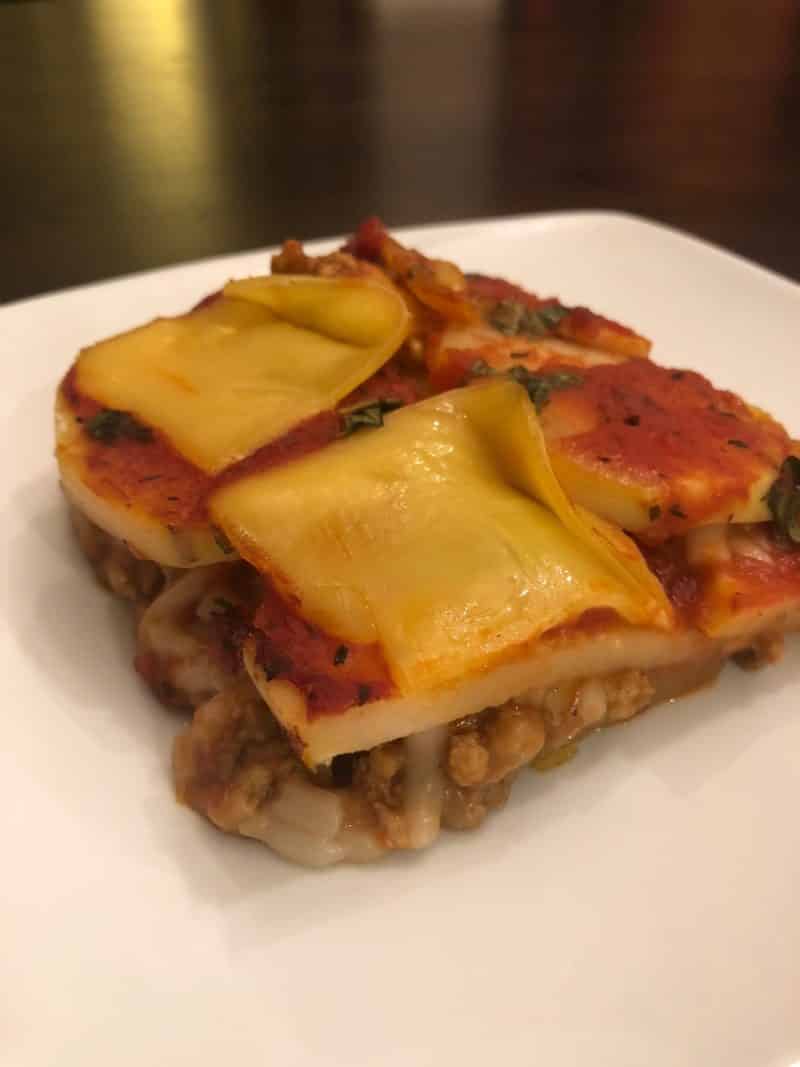 Who doesn't love lasagna? Well, now that we are back to school and work, we could all use a tasty meal to look forward to and lasagna is a great dish that can be made ahead and eaten all week. But we all know that lasagna can be a calorie bomb however, with my vegan potato lasagna recipe, it's not only veggie packed but also gluten free and closer to guilt free than the original!
4-5 medium potatoes, washed, peeled, thinly sliced, soaked and dried
1-2 cups pasta sauce of choice
1 bag of vegan beef crumbles (I used Beyond Meat)
1 cup spinach leaves
1 tablespoon olive oil
1/2 medium white onion, finely diced
2 cloves garlic, minced
5-10 fresh basil leaves, minced
1 cup of vegan shredded mozzarella cheese
2-4 slices vegan mozzarella or provolone cheese (I used Follow Your Heart),  with each slice folded into quarters
Preheat oven to 350 degrees.
In a medium pan over medium heat, heat the olive oil and sauté the onion and garlic until fragrant and translucent.
Add in the spinach and beef crumbles. Cook until all ingredients are well incorporated and season as desired. Remove from heat.
In a lasagna or casserole dish, cover the bottom with a layer of pasta sauce. Then add in the first layer of potato slices, layering and overlapping to cover the bottom of the tray evenly as you would with noodles.
Top the potato layer with the cooked vegan beef crumble mixture, filling the pan and making an even layer. Top generously with sauce and a layer of basil.
Top with an even layer of shredded cheese (use the whole cup and use more if you desire).
Top the cheese layer with another layer of sliced potatoes, covering completely and evenly.
Top with pasta sauce, covering well and evenly and then top with the squares of sliced cheese, covering the whole pan evenly.
Place lasagna into oven and bake for 25-30 minutes, until cheese on top is melted and golden.
Remove from oven and allow to cool a few minutes before slicing and serving.