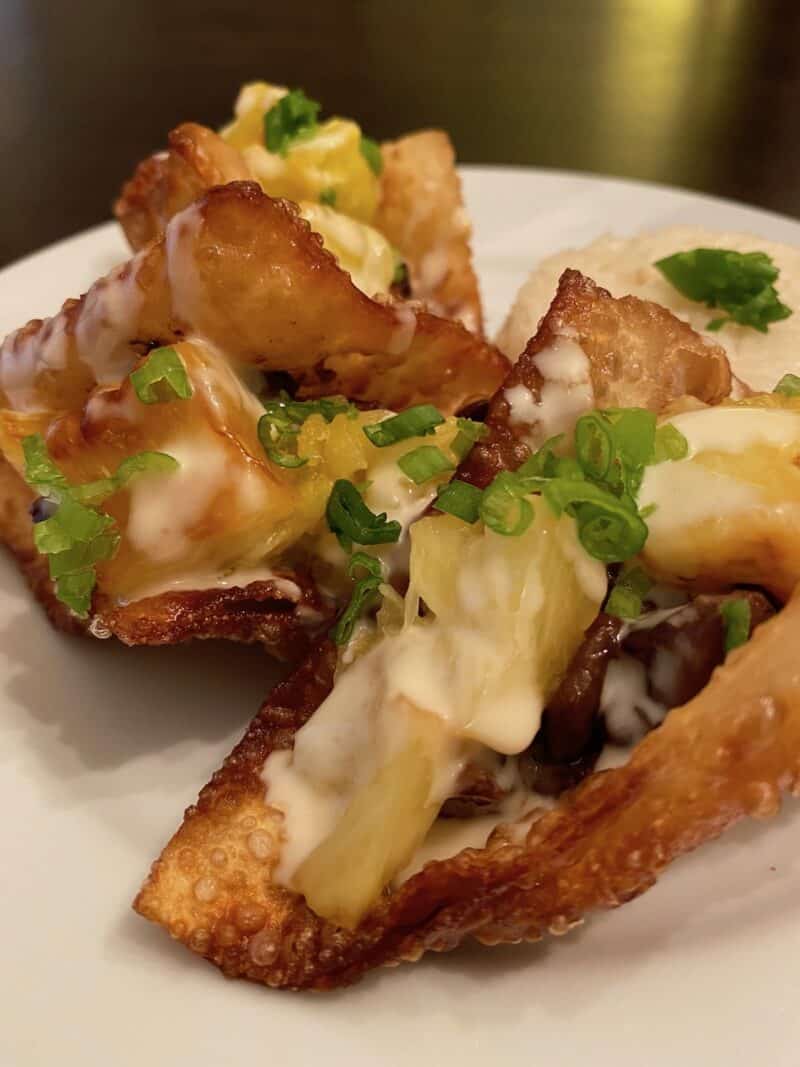 I love tacos and I love that I can taco-fy most things! That's why I messed around with some Asian style tacos and I hope you'll love them as much as I do! Here is my recipe for vegan teriyaki mushroom and grilled pineapple tacos!
1/3

 

cup

 

+ 1/4 cup Teriyaki Sauce

 

(divided)

1 pound oyster mushrooms
1 clove garlic, minced

2

 

green onions,

finely diced and divided

1 cup finely cubed pineapple chunks
2-3 tablespoons of vegetable oil

6-8

vegan

egg roll wrappers

2 tablespoons vegan mayonnaise
1 1/2 teaspoons lime juice

lime wedges, for garnish
Marinate mushrooms in 1/3 cup Teriyaki Sauce in a bowl or bag for 30 minutes to 1 hour in the refrigerator.
To make lime crema:
Mix vegan mayonnaise and lime juice in a small bowl. Refrigerate until ready to serve.
To make wonton taco shells:
Heat 2-3 tablespoons of vegetable oil in a large saute pan over medium high heat.
Add 1 egg roll wrapper to heated oil.
Fry on one side for about 8 seconds till it starts to get bubble and just starts to turn golden.
Flip over and fry additional side for about 5 seconds.
Carefully using tongs, fold one corner of the eggroll wrapper over to the opposite corner and continue to fry that side till golden brown.Flip over and repeat with other side (still folded over).
Remove from heat and place on paper towels to soak excess grease and allow "taco shells" to cool. (Make sure to leave a little space between the 2 corners of the shell that have been folded together because it will harden in whatever position it cools. So that you can stuff toppings into the shells. You may want to let them "set" upside down on a rack so they cool in place) Set aside.
Repeat with remaining wrappers. Add in more oil (2 tablespoons at a time as needed to keep a little on the bottom of the pan for each wrapper)
To make filling:
Mushrooms: Over medium heat in a saute pan, saute the garlic then add in the marinated mushrooms and half of the green onion. Then add in the 1/4 cup teriyaki sauce and cook until well incorporated.
Pineapple: Grill the pineapple on a grill pan, electric grill or regular grill until desired texture, it grills up fast
Assemble the tacos:
Fill taco shells with a heaping tablespoon or 2 of the mushroom mixture, sprinkle with green onion and top with some pineapple and drizzle with lime crema.
Serve with a sliced lime and enjoy! Pairs well with pineapple or coconut fried rice!