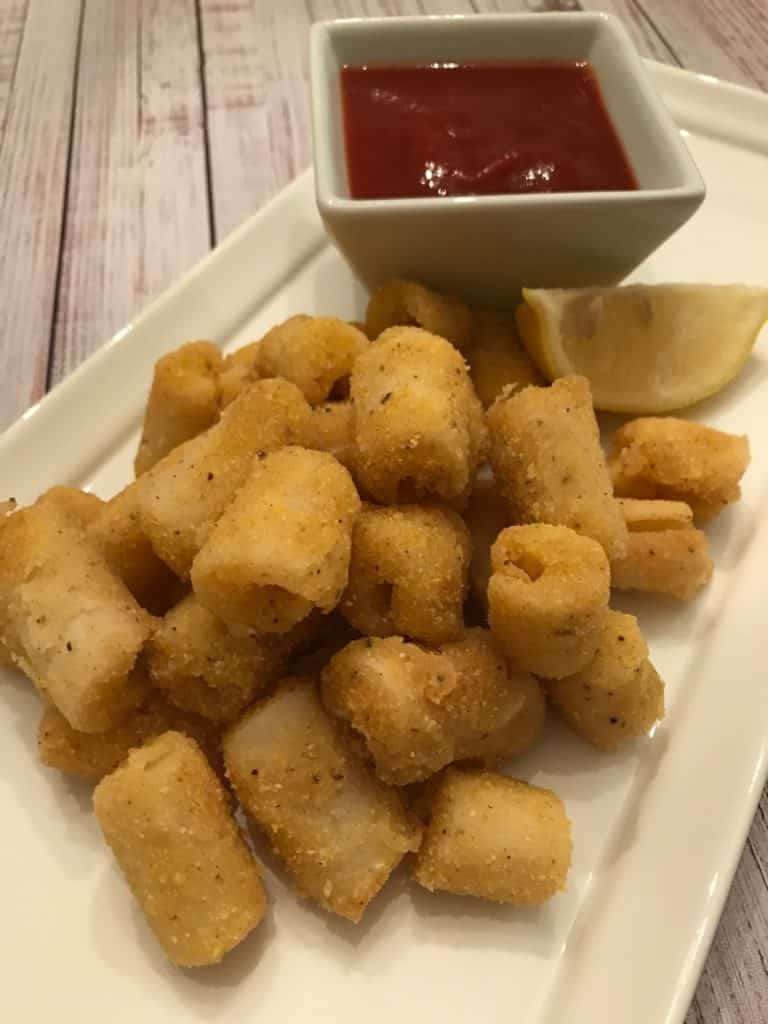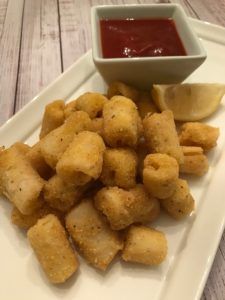 Before going vegan almost 20 years ago, I was never a big seafood fan except for clam chowder, shrimp cocktail and calamari. And I'm so happy I've been able to make vegan versions of all of these tasty treats! And now you can too!
My vegan hearts of palm calamari recipe will definitely not disappoint! Enjoy!
Batter
1 cup of gluten free flour
1 tablespoon cornstarch
1 cup of chilled seltzer water
2 tablespoons toasted nori granules (if you can't find these or flakes, finely mince a nori sheet)
Salt and pepper, to taste
Calamari
Two 14-Ounce cans Reese Hearts of Palm, drained and rinsed
3/4 cup finely ground yellow cornmeal
3/4 cup rice flour
1 tablespoon Old Bay seasoning
1 teaspoon garlic powder
Salt and pepper, to taste
High heat oil, for frying
Minced parsley, for sprinkling
To prepare the batter: In a large mixing bowl, add batter ingredients, slowly stirring in seltzer water until batter is thick and creamy, like pancake batter. Stir in the ground seaweed, salt, and pepper. Set this aside at room temperature until hearts of palm are ready.
To prepare the hearts of palm calamari: Trim both ends of each heart of palm to expose the center; this will make it easier to see and remove. Working from the narrow end, gently push out the insides of each cylinder, using your pinkie or a chopstick. Some pieces will be easier to gut than other-don't worry if a few split. Discard or reserve the insides for another use.
Carefully cut each hollow spear into four 1-inch wide rings, calamari sized. Then add the hearts of palm to the batter, gently turning the pieces over with your hands until thoroughly coated. Set aside at room temperature.
Next, add cornmeal and rice flour to a large mixing bowl, add the old bay seasoning, garlic powder, salt and pepper and toss to distribute the ingredients evenly.
Working in batches, scoop the hearts of palm from the batter with a slotted spoon, allowing the excess drip back into the bowl. Then dip the hearts of palm into the cornmeal mixture, and toss with your hands until evenly coated on all side. Shake off the excess cornmeal to make sure they are coated evenly and are no clumps. *You may choose to add the cornmeal mixture into a large plastic bag to evenly toss and coat the calamari after the batter step. Just be sure to shake off excess to avoid clumping.
*All of this can be prepared up to 2 hours in advance. Arrange the breaded hearts of palm in a single layer on a baking sheet and refrigerate, uncovered. Allow the hearts of palm to come to room temperature before frying.
To Deep-fry the hearts of palm calamari: Heat 2 inches of oil to 325 F in a cast iron skillet or heavy saucepan. Working in batches, add the hearts of palm to the hot oil and fry, carefully turning with tongs, until golden brown and crispy on all sides, 2 to 3 minutes. Do not crowd the pan. Remove the cooked pieces to a paper towel lined platter to drain. Season the hearts lightly with salt, pepper, and a sprinkle of parsley while still hot.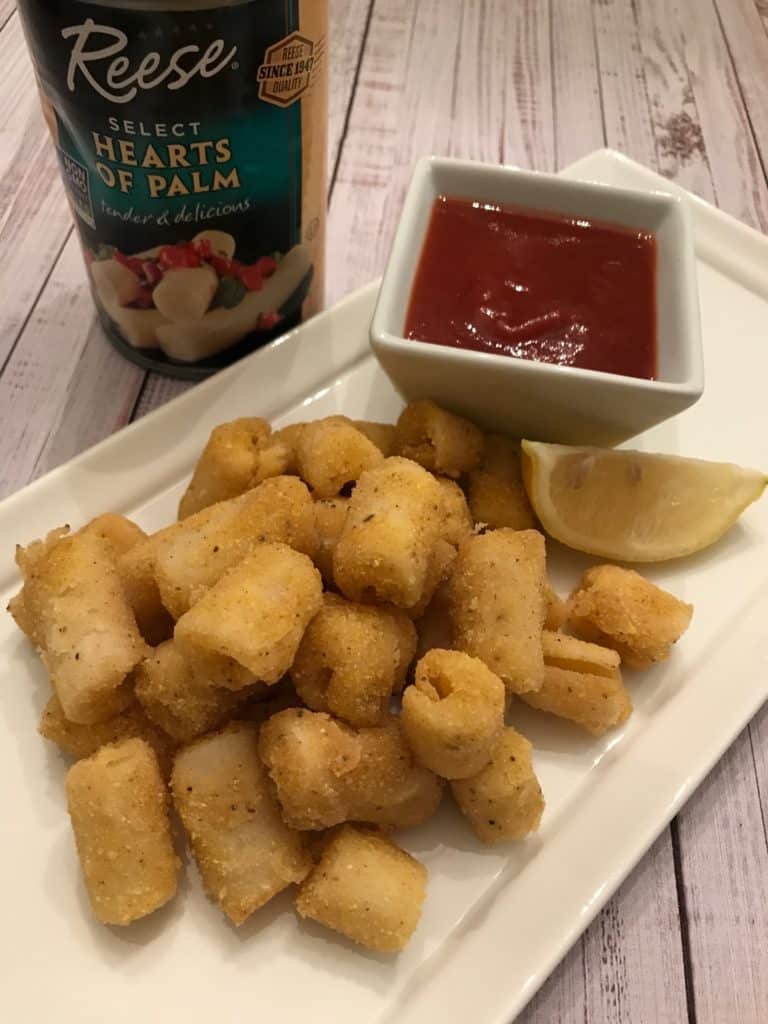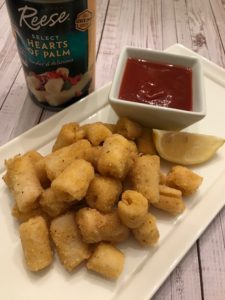 Serve with lemon wedges and marinara sauce for dipping. Enjoy!