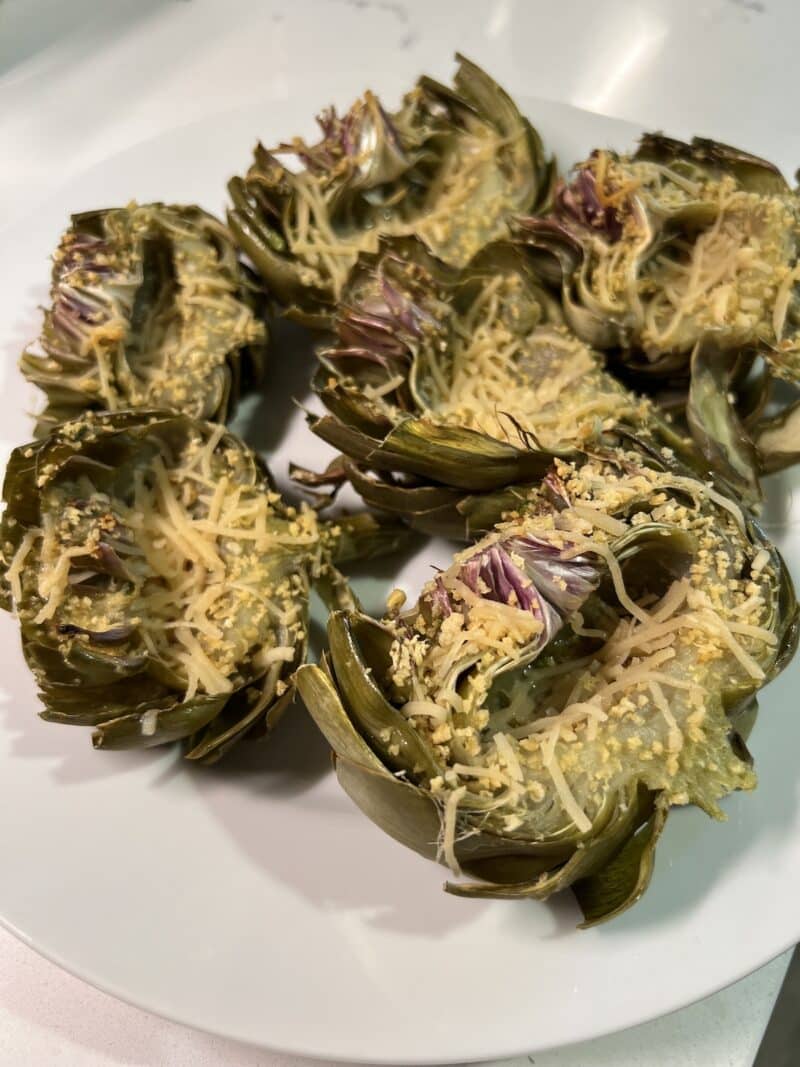 Artichokes are delicious but they can be intimidating to cook. And sometimes it seems like a lot of work to eat very little reward. However with this recipe, you're sure to get tons of tasty reward with very little hassle as these turn out tender and bursting with flavor! Enjoy my vegan Garlic Truffle Baked Artichokes recipe!
4 artichokes
1/2 cup Vegan butter
1 tablespoon Truffle oil
2-3 minced garlic cloves
1 tablespoon fresh Thyme leaves
Vegan Parmesan
Breadcrumbs (I used Longeve vegan and gluten free protein breadcrumbs)
Prepare Artichokes: Rinse artichokes. Snap off and discard any errant outer leaves on stems. Snip off any large thorns on leaves using kitchen shears. Saw off and discard top-third of leaves (inedible leaves furthest from stem) using a serrated knife. Cut off and discard lower part of stem, leaving at least 1 inch attached to artichoke.
Cook Artichokes: Add artichokes to a
large pot
, add water until they start to float, and cover. Bring to a boil over high heat. Boil covered for 30 minutes, adjusting the heat as needed to maintain a medium boil. Uncover, and transfer artichokes using tongs to a colander to drain, stem side up. Check for doneness: artichokes are done when a knife can be easily inserted into stem (parallel to fibers) with little or no resistance. Let them cool and steam out, about 5-10 minutes.
Preheat oven to 375 degrees
Prepare Marinade: In a small saucepan, ad the butter and garlic to medium hot pan and saute for a few minutes. Add in the truffle oil and thyme, mix well and remove from heat.
Bake the artichokes: Slice each cooled artichoke in half, down the stem, handling them carefully to avoid breaking off tender leaves. Scoop out and discard fuzzy needle-like white centers and purple leaves from each artichoke half using a spoon. Arrange artichoke halves on a cookie sheet and drizzle or brush butter mixture onto each artichoke. Allow to pool in the heart and brush into each leaf evenly. Sprinkle breadcrumbs and cheese onto each one (as much or as little as you desire) and place in oven to bake for 10 minutes or until cheese is melted and crumbs are browned.
Enjoy!