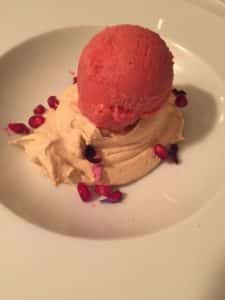 On a recent trip to Switzerland, I discovered a delightful dessert made from corn flour called Farina Bona. A nutty, gritty sort of ice cream, it seemed like something I had to bring back with me!
So while I couldn't find farina bona in the states, regular corn flour, toasted, does the job! It is a really cool, gelato-ish type of dessert that is sure to be a hit here at home! I hope you enjoy my vegan farina bona ice cream recipe!
2 cups  of coconut milk
1 cup of full fat coconut cream
3/4 cup of granulated sugar
3/4 cup of corn flour (not cornmeal) (if you can toast your corn flour, it really adds to the flavor)
1/4 teaspoon vanilla extract
1 tablespoon of Follow Your Heart Vegan egg (measured from a 1 full egg mixture)

1/8

teaspoon

coarse salt
Heat 1/2 cup of the coconut milk in a medium saucepan with the cream, sugar, corn flour, egg, vanilla and salt. Cook until the mixture just begins to boil, stirring constantly with a whisk to make sure the corn flour isn't lumpy, and let it cook at a low boil for ten seconds, while continuing to whisk.
Remove from heat and stir in the remaining milk and then transfer the mixture to a bowl and chill thoroughly.
Freeze in your ice cream maker according to the instructions.
To serve, top with fresh fruit or a dollop of sorbet and enjoy!