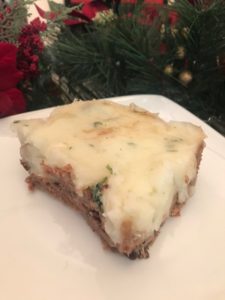 This time of year nothing is better than a warm, flavorful and hearty dish. A winter go-to is Shepherd's Pie. Delicious as is, this past holiday season, I gave it a Latin twist! Swapping yucca for potatoes and lentils for blacks, using Latin seasoning and BAM! A vegan Cuban Style Shepherd's Pie recipe was born!
Great any time of year and perfect for making ahead of time and eating all week long, enjoy this "sabroso" version of a classic winter dish!
Shepherd's Pie Base
1 tablespoon sunflower or safflower oil
1 white onion, finely diced
2-3 cloves garlic, minced
5 medium tomatoes, seeded and diced
1/4 cup cilantro leaves, finely diced
2 cans black beans, do not drain
1 package vegan ground beef
1/2 cup vegetable broth
3 tablespoons flour (gluten free if desired)
1 1/2 teaspoon cumin
Salt and pepper, to taste
Mashed Yucca
2 pounds yucca, peeled and chopped
1/2 cup olive oil
1 teaspoon salt
1 white onion, finely diced
6-8 cloves garlic, minced
1/3 cup lemon juice
1/2 teaspoon oregano
1 teaspoon finely minced cilantro leaves
1/2 teaspoon cumin
Pepper, to taste
To make the black bean base:
In a medium sized pot, heat the oil and saute the onion and garlic until aromatic and translucent. Add in the tomatoes and saute for about 2-3 minutes.
Add in black beans, ground beef, cumin, broth, salt and pepper, stirring well to fully incorporate. Once well mixed, add in the flour, 1 tablespoon at a time until while stirring to thicken sauce.
Bring to a boil, reduce the heat to low, cover and simmer slowly 10 to 12 minutes or until the sauce is thickened slightly. Set aside.
To make the mashed yucca:
Place the yuca into a pan and fill with enough water to cover. Stir in salt. Bring to a boil over medium-high heat, cover, and cook until tender, about 20 minutes, until fork tender. Drain, and place yucca in a big bowl.
While yucca is cooking, make the mojo sauce. Place the olive oil, onion, garlic, cumin, oregano, cilantro and lemon juice into a bowl and whisk until fully incorporated. Season to taste and pour the olive oil mixture over the yucca and mash immediately, making sure you've incorporated the sauce well and there aren't any chunks of yucca.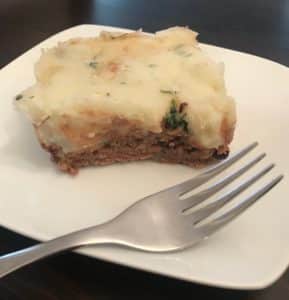 To make the Shepherds Pie:
Preheat oven to 400 degrees
Fill the bottom of a lasagna or casserole dish with the black bean mixture. Smooth out the base layer and be sure it's evenly spread.
Top with the mashed yucca, spreading it out evenly and sealing all of the edges well.
Place casserole on a parchment paper lined cookie sheet, in case of bubble over run off and bake for 25 minutes, until the yucca is golden brown.
Allow to cool on a cooling rack for 10 minutes then serve and enjoy!