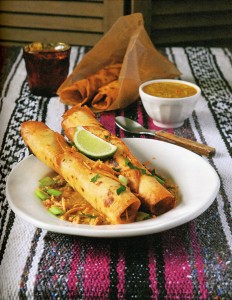 Cinco de Mayo is coming up and that means beer, margaritas and lots of chips and salsa! Below we have a fun menu of great Mexican food and drink that is fit for vegans, featuring some of our favorite brands such as Gardein, Pacific Foods and Casa Noble! We hope you have a delicious and super fun, yet healthy, Cinco de Mayo!
Menu of recipes includes:
Macho Nachos

Torta Ahogada
Creamy Potato and "Chicken" Flautas in Tomatillo Sauce
Horchata
Margarita Flaca
Enjoy and Disfrute!
xoxo
Macho Nachos

2 bags corn tortilla chips of your choice (mixing colors and flavors is fun!)
Fresh Salsa
4 ripe tomatoes, seeded and chopped
1 jalapeño pepper, seeded and finely chopped
1 small white onion, chopped
¼ cup finely chopped cilantro leaves
Salt and pepper, to taste
"Beef" and Beans
1 tablespoon olive oil
1 package Gardein Meatless Ground
2 cloves garlic, finely chopped
1 small onion, chopped
1 jalapeño, seeded and chopped
1 teaspoon salt
1 ½ teaspoons chili powder
1 ½ teaspoons cumin
1 teaspoon cayenne pepper (add or subtract to your heat level)
1 package of Pacific Refried Black Beans, drained
 Additional Toppings: 
2/12 cups vegan shredded cheddar or Mexican mix cheese
Vegan sour cream
Chopped scallions
Chopped black olives
Guacamole
Arrange the mixture of both corn chips on a very large, oven safe platter.
Combine salsa ingredients and set aside.
Preheat broiler to 300 degrees.
Heat a medium sized pan to medium heat. Add in oil, garlic, onion and peppers  and sauté for 2 minutes. Add in the meatless ground and mix in well. Season with salt, chili powder, cumin and cayenne pepper. Cook and mix well for about 3-5 minutes, then stir in the beans and reduce to low heat.
Use about a cup of cheese and generously spread over the tortilla chips and top evenly with meatless ground mixture. Top with another cup of cheese.
Place platter into broiler for a few minutes to melt the cheese.
Remove platter from oven and top with salsa, guacamole, sour cream, scallions, onions and olives, sprinkling the last bit of cheese on top.
Yields 4-6 servings
Torta Ahogada (Spicy "drowned beef" sandwich) * adapted from The Healthy Voyager's Global Kitchen Cookbook

Sauce

1 (10-ounce) can chopped tomatoes with diced green chiles
2 cups plain tomato sauce
1/4 cup chopped fresh cilantro
2 to 3 chipotle chiles in adobo, seeded and chopped
2 teaspoons adobo sauce from canned chipotles
Juice of 1 lime
Salt & pepper, to taste
1 cup vegan beef broth (make with vegan beef bullion)
"Meat"

2 tablespoons vegetable oil
1 large onion, thinly sliced
4 garlic cloves, minced
2 jalapenos, seeded and minced (optional if you don't like it to spicy)
1 package of Gardein beefless strips
1 medium to large avocado, pitted, peeled and smashed
4 crusty sandwich rolls, halved and lightly toasted
Preparing the sauce: In a large saucepan over medium heat, combine the chopped tomatoes, chiles, tomato sauce, cilantro, chipotles, adobo sauce and lime juice. Add salt & pepper to taste. Simmer and stir then reduce the heat to medium-low and continue to gently cook for 15 minutes, stirring occasionally.
Remove the sauce from the heat and add the "beef" broth. Add the sauce to a blender, puree the sauce until smooth, it should be thin.  Be very careful when blending hot liquid. Doing it in batches and covering the lid with a towel while keeping your hand on it, pressing it down, is the best way to keep it from spilling out.  But if you have a hand/stick blender, this is a great time to use it! Keep warm until time to serve.
To prepare the meat filling: Place a large skillet over medium heat and add the oil. When the oil is hot, add the onions. Cook and stir until the onions until they begin to soften. Then add the garlic and jalapeno, stirring to incorporate ingredients well. Cook and stir for an additional 2 to 3 minutes, or until the onions are well browned and the garlic and jalapenos have softened. Add the "meat" and mix until heated and well combined, about 2 minutes. Add 3/4 cup of the tomato sauce to the roast beef mixture, tossing it to coat completely.
Making the torta: Spread the smashed avocado on both sides of the roll. Pile the "meat" on the bottom halves of the sandwich buns, close, and cut each sandwich in half. Arrange each sandwich on a plate with the dipping sauce on the side. Ladle the sauce into 4 bowls for dipping. Be sure the bowls are large enough so the sauce doesn't spill out when the sandwich is dipped. Dip and eat!
Yields 4 servings
Creamy Potato and "Chicken" Flautas in Tomatillo Sauce (Taquitos) * adapted from The Healthy Voyager's Global Kitchen Cookbook                               
   1 1/2 tablespoons olive oil, divided
   1/2 cup yellow onion, diced
   1 1/2 cup red bell pepper, diced, divided
   1 Serrano pepper, diced small (seeded if you don't like spicy or omit entirely)
   2 tablespoons minced garlic cloves
   1 1/2 cups corn
   3 large russet potatoes, peeled, cubed and boiled
   1/2 cup vegan sour cream
   3/4 cup vegan cream cheese, room temperature
   3/4 cup shredded vegan cheese (cheddar or mozzarella or a mix!)
   1 teaspoon cumin
   Salt and pepper, to taste
   1 cup green onions, sliced, divided
   1 (28-ounce) can tomatillos, drained and roughly chopped
   2 cups safflower oil (or preferred high heat oil)
   8 (8-inch) flour tortilla
   1 (12 ounce) can black beans, rinsed and drained well (vegan black refried beans are great here too)
   1/2 package of Gardein Chick'n Strips, thawed
   1 medium to large avocado, halved, pitted and mashed
   Shredded vegan cheese, for garnish (cheddar or mozzarella or a mix)
   1/3 cup chopped cilantro, for garnish
   Toothpicks
Over medium-high heat, add 1 tablespoon of the olive oil and sauté yellow onion, half of the red bell peppers, and the serrano pepper, to a large saucepan and cook for about 3 minutes. Add the garlic and sauté for about a minute more. Turn off heat, add in the corn and set aside.
In a medium bowl, mash the potatoes with a fork or masher, then fold in the sour cream, cream cheese, cheese, cumin, salt and pepper. Stir in 1/3 of the sliced green onions and add into the corn/pepper mixture. Season, to taste, with salt and pepper. Keep warm.
In a small pan, over medium heat, add the remaining olive oil. Add the remaining red bell peppers and sauté briefly. Stir in 1/3 more of the green onions, and then the tomatillos. Simmer for 5 to 6 minutes, then puree in a blender (be very careful blending hot liquids) and keep warm.
Preheat the oven to 250ºF and put a cooling rack on a baking sheet pan. Heat the oil to 350ºF in a large deep skillet. Be sure to have tortillas, beans, potato mixture, sliced avocado and toothpicks ready to go. You will also want to have a plate lined with paper towels for draining.
Put a tortilla on a flat, dry work surface. Lay about 3 tablespoons of the black beans along 1 side. Top with about 1/3 cup of the potato mixture, 1-2 thin chicken strips and avocado. Don't over stuff or your flauta will fall apart. Roll tightly, cigar style and seal with a toothpick. The best way to seal it is as though you are pinning fabric with a straight pin, where both the tip and the end are exposed. Do this where the sides of the tortilla overlap. Once rolled, it should look like a fat cigar that's open on both sides. Set aside and repeat with remaining ingredients.
When all are assembled, check the oil temperature and gently add them to the pan, maximum 4 at a time. Do not crowd. Turn frequently and be careful not to burn as they cook quickly. Drain on paper towel lined plate and remove the toothpicks. Keep warm in the oven on the cooling rack.
Put 1/4 cup of tomatillo sauce on a plate lay flautas down then sprinkle with cheese, cilantro and green onions.  You may want to serve with a dollop of fresh guacamole.
Yields 8 servings
**Cook's Note
If you are opposed to frying your flautas, brush them with a little oil and bake them at 350ºF until golden brown and coked through.
Horchata
Margarita Flaca
1 1/2 oz organic Casa Noble tequila
1 oz  organic orange juice
1 1/2 oz fresh organic lime juice
1 teaspoon agave syrup (or stevia for sugar free sweetness)
Coarse salt
Lime slice for garnish
Pour enough salt onto a plate to cover it lightly. Rub the rim of a rocks glass with the cut side of a lime, and dip it into the salt to create a light salt rim. Add a few large ice cubes to the glass. Combine the tequila, orange juice, lime juice, and agave syrup in a cocktail shaker and shake vigorously for 20 seconds. Serve and enjoy!
Yields 1 serving