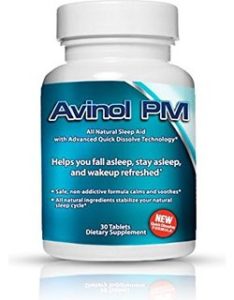 Imagine the following scenario: your alarm goes off, its banshee-like screech violently yanking you from the middle of what you vaguely remember to be a pleasant dream. You get out of bed late after hitting the snooze button once or twice or seventeen times. You can't seem to style your hair or put together the right outfit for work, because your head is clouded by drowsiness. You have to skip breakfast if you want to get to the office on time, which doesn't make the fatigue any easier to fight through. And the whole reason you woke up so tired in the first place was because you spent hours in bed tossing and turning the night before.
For most of the people who are probably reading this right now, you don't have to imagine the scenario I just described. You've already lived it. Over and over and over again.
If you're like I was a few years ago, you probably think your situation is hopeless. You believe that your life is so stressful, so complicated, and that you've slowly worked yourself into such an intractable position that a chronic sleep deficit it's just a part of life that you will never be able to fix.
Well, please don't get mad at me for saying this: but you're wrong. You can change your sleep habits for the better. Despite whatever stressful complications are swirling around your life right now, you too can get the sleep you deserve – which, by the way, will improve your overall quality of life by leaps and bounds.
For me, it started by throwing out all of the other dangerous, chemical sleep aids I had depended on for years. I started by getting rid of everything in my house that contained the toxic sleep drug diphenhydramine (AKA "Benadryl", the ubiquitous main ingredient in almost all sleeping pills and allergy medications).
Sure, getting an over the counter sleeping pill at my local drugstore seemed like a quick and affordable option at the time, but after a while I just couldn't take them anymore. I kept experiencing what I used to affectionately call the "diphenhydra-hangover" the morning after. Not only was I so sluggish and foggy then it made my day that much more difficult, but one morning on the way to work I almost got into a car accident! Even though I stopped taking over-the-counter sleep meds then, I still hadn't thrown them out yet – until the day I decided to finally take back control of my sleep, that is.
As I was getting rid of the drugstore sleep aids, I also called my pharmacy and told them not to renew my prescription strength sleep medication. when I think of how much money I wasted getting those pills in the first place – as well as the time it took to get my doctor to write me the script in the first place – I almost want to kick myself. Although I never experienced some of the scarier side effects of prescription sleep drugs (like sleep eating or doing other things without remembering it the next day), I wasn't exactly feeling well rested and refreshed the morning after, either. So it was obvious to me that they weren't working.
Now, that isn't to say that if you have a legitimate sleep disorder which needs medical attention, you shouldn't rely on the advice of your doctor. But when I decided to go in a more natural direction, it revolutionized the way I slept. I was falling asleep faster at night, staying asleep all night through, and feeling amazing and full of energy the next day.
For me, the answer came in the form of an herbal sleep aid: Avinol PM. Because I didn't want to waste my money on a placebo that wouldn't work, I made sure to do my research first before I settled on this particular remedy. Here's what I found:
Avinol PM contains melatonin, which is the sleep hormone responsible for making you feel tired at night and triggering your brain to get a good night's sleep
Avinol PM contains natural, botanical ingredients (like chamomile, GABA, lemon balm, and l-theanine) which help reduce night time anxiety by increasing the amount of endorphins in your brain
Avinol PM contains 5-HTP, and extremely important amino acid that serves as the building block for happiness-inducing neurotransmitters like serotonin
Avinol PM also contains things like hops, valerian root, and orange peel that have a relaxing, sedative effect
And it really did work. Of course, I took other important steps to improve my sleeping habits –  or, as the experts call it, my "sleep hygiene" – so that I could help the natural ingredients in  Avinol PM work better for me.
I started turning my thermostat down just a few degrees at night so that my bedroom was cooler and easier to fall asleep in. I set an alarm on my phone for the same time every night, to remind myself turn off all of my electronics (and yes, I do mean all of them) so that the jarring blue light would no longer keep my brain stimulated and prevent it from releasing melatonin the way it's supposed to after the sun goes down. In order to help myself fall asleep better, I also started reading books (no, not from a kindle, real books) in bed right before I was ready to go to sleep. And I even bought a satin sleep mask to block out any light that might wake me up.
It took a little while to get used to, and I'm not going to lie and say there weren't growing pains along the way – boy howdy, were there ever – but eventually, I did settle into my new routine. I'm at the point now where I don't even need an alarm to wake up in the morning. And I know for a fact I couldn't have done it without Avinol PM. I know this because on the nights that I don't take it, I just don't feel the same the next morning.
Not too long ago, I decided that Avinol PM would become a permanent part of my nightly routine. And if you want to improve your quality of sleep, it should become a permanent part of yours, too. Learn more.
Written by Lisa Ashlynn McCall