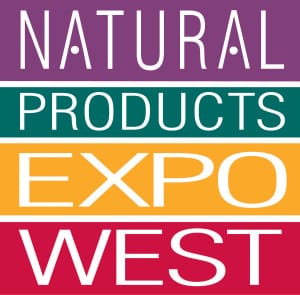 It's that time of year again where I spend 4 jam packed days at Natural Products Expo West! Miles and miles of walking, thousands of products to eat, smell and wear, it's overwhelming in the most fun way!
Each year I do my roundup of the best products so let's get right to it! These are the goodies that blew my mind at Expo 2015!
In no particular order:
Violife – Get this, a grate-able vegan parmesan block! Vegan, soy free and gluten free but 100% amazing!
Neat Egg – I love their vegan, gluten free, soy free meat mixes and their new vegan egg is just as awesome ; )
Zaza – Raw vegan chocolate ganache that will blow your mind!
Little Secrets – Vegan M&Ms!!!
Super Rebel Herbs – Delicious coconut milk drink with adaptogenic herbs and terrific taste!
Bioray Kids – Chinese medicine in great tinctures that help kids focus, relax and even digest better
Whole Superfoods Lime & Chile Avocado Chips – Freeze dried avocado with lime and chile, sooo yummy!
So Delicious Salted Caramel – The best vegan ice cream flavor ever created!
Green Energy – Coconut water and kale energy drink, yep! And it tastes great!
Mary's Gone Crackers Thins and Grahams – A thousand times better than wheat thins in awesome flavors and great grahams that kids and adults will love!
And of course, Expo veterans launched new goodies too! Vegan cheeses and mac n' cheeses were all the rage this year such as the incredible Follow Your Heart vegan slices and Field Roasts Chao Slices, Miyoko's Gourmet Cheese, Daiya's new formulation as well as their shelf stable mac n' cheese and cheesecakes. Beyond Meat served up their new Beast Burgers while Gardein launched fabulous vegan crab cakes and pork chunks.
So much good stuff and I'm sure next year will only get better!