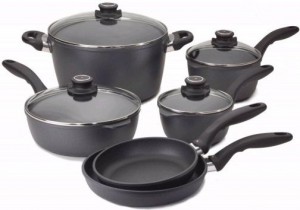 Do you know that kitchen cookware affects your lifestyle? Well, if you are a newbie to home cooking, this may sound a little bit odd or untrue. There are many questions that you need to ask yourself before settling for particular kitchenware. The best advice that I can give you, regardless of what works for you, is that cheap cookware doesn't last for long, and that is expensive in the long run.
Moreover, high-quality cookwares are not only easy to maintain but also provide quality food for you and the guests. So, what are some of the things that may influence your choice for kitchen cookware? Well, they include but aren't limited to the following: 
·         How much time do you spend cooking?
If you spend a lot of time in the kitchen, you need to look for something built for longevity and durability instead of attractiveness. Going for durability is also advisable if you cook daily. The best option for daily cooking would be stainless steel because it is easy to clean and also resistant to corrosion. Stainless steel is also healthy as it doesn't contain harmful chemicals that can leach and contaminate or discolor the food to give it an odd taste. Moreover, it is a budget-friendly and can be used in cooking almost every meal. That is why stainless steel is the most common cookware in every home.
·         Are you cooking for many people?
The number of people that you cook for will determine the size of the cookware that your kitchen needs.  A big family will obviously need big-sized cookware. Another hack that I will give you for big cookware is buying something attractive that can even be used in serving food at the table. That way, you won't go through the hassle of exchanging food since you are dealing with a large quantity.
·         Are you cutting down on calories?
Cutting down on calories and cholesterol intake will demand that you use non-stick cookware. However, you must check out on brands that use PTFE and PFOA chemicals as part of their construction ingredients and shy away from them because they often leach and contaminate the food. You must also not use oil sprays on non-stick cookware because they will erode the non-stick part.
·         Which brand to choose?
Lastly, you might also want to consider the choice of brand. A brand is purely an aesthetic choice and will differ from one person to another. Buying from superior brands will cost more than generic brands, but it is the best choice. It would also help if you bought the kitchen cookware from trusted vendors accredited by various brands to sell their products.
Finally, you must also know that pots and pans are made of different materials, and that will affect your overall cooking. For instance, the size and thickness of the metal material will affect how heat is distributed and how fast the food cooks. 
The type of metallic material will also affect the longevity of the cookware. So, there are many things that you should consider, but asking yourself the above questions gives you a heads up on what is supposed to be done. Shop for quality cookware and if you need happy cook times!