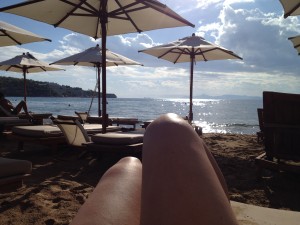 While most travelers view a vacation as an opportunity to embrace some much-needed fun and relaxation, it can also provide a chance to restore both your mind and body.
If you feel tired, stressed, and unconfident in your everyday life, the right breakaway could transform your physical and mental health.
Read the secrets to staying in excellent health on a getaway.
Use Your Leisure Time to Meditate
Life's daily pressures can take a toll on both a person's mental and physical wellbeing. Yet, meditation can help you to lower your stress levels and blood pressure. While you might often plan to meditate, you might fail to incorporate the relaxation exercise into your day due to a demanding professional or personal life.
A vacation will, however, offer the perfect opportunity to do so, as you will have plenty of time focus on breathing in and out, which can provide mental clarity while enhancing your mood. Plus, the deep breathing technique could help you to counteract the unwanted stress of potential flight delays or lost luggage.
Stay Active
While sipping cocktails by a pool or lounging on a beach might sound idyllic, your daily inactivity could lead to you feeling tired and lethargic at the end of a getaway. To boost your mood, energy levels, and confidence, you should aim to remain as active as possible on vacation.
For instance, you could:
Walk to a destination over taking public transport

Go for a run each morning

Enjoy a fun bike ride

Enjoy swimming in a pool
You could even dedicate an entire trip to health and fitness with a wellness retreat at a beautiful destination.
Keep Hydrated
A vacation can be an excellent way to encourage you to drink more water each day. As the sunny temperatures can make you overheat, you will be more likely to reach for a bottle of water to keep dehydration at bay. By doing so, you can prevent a variety of issues, such as:
Sleep deprivation

Irritability

Headaches

Constipation

Low energy levels

Fatigue
You will quickly realize the benefits water can bring to your body, so you will be more likely to pick up an extra glass or two once you arrive home.
Take a Mental Break
A trip at home or overseas will allow you to enjoy some mental clarity, as you will not be forced to contend with spiraling workloads, endless household chores, or family issues. While a breakaway will provide a chance to spend quality time with your nearest and dearest in a stunning setting, you also should make time for yourself.
For example, it might be beneficial to your mental health to go for a walk on your own, which will allow you to clear your head and enjoy some peace and quiet. Taking a break can be healthy, so enjoy a solo stroll to a local store to embrace some alone time, which could transform your mood and outlook on life.