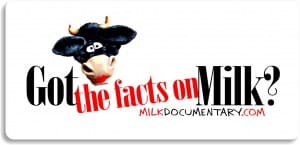 You may have seen me rave about Forks Over Knives and I love what that film has
done and will do for the plant based health movement.
And I'm sooooooooooo excited to announce my newest favorite
in the very same movement, the Got the facts on Milk Documentary!!
It is funny, clever, entertaining and full of awesome information that
will make any dairy enthusiast cringe.
With scientific studies, information and testimonials from top doctors,
scientists and physicians, it is hard to deny the
awful effects of dairy consumption. With a 95% health stance, and 5% mix of environmental and
animal rights, anyone who is squeamish about animal rights
slaughterhouse films can breath a sigh of relief as this isn't that kind of film.
There are plenty of horrors in this film but they all come from facts and comments on how dairy
consumption affects us, not from scary footage.
It is a great ride and I'm really hoping that it makes big splashes because watching it can save your life!
Watch the preview below and buy the dvd today!