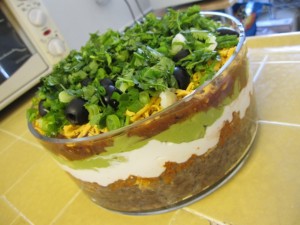 Summer is here and that means bbq's parties & lots of hot weather grubbin' ; ) Nothing hits the spot like a great dip so this one is a sure hit. It's vegan (as always), gluten free and can be made soy free. You can half this recipe for a smaller batch but the full recipe makes enough to last the whole party ; ) Enjoy!
1 (16 ounce) can vegan refried black beans
1 pack of soy chorizo (or 2 packs of prepared  meatless ground)
4 cups shredded cheddar vegan cheese (I use Daiya)
1 container vegan sour cream
1 1/2 cup guacamole
1 1/2 cup fire roasted salsa
1 can black olives, chopped
1/2 cup chopped tomatoes
1/2 cup chopped green onions
1/2 cup cilantro, chopped
Spread the beans into the bottom of a deep, glass serving dish (at least 9 x 13). I like to use a square or round flower arrangement vase.  Sprinkle 2 cups of shredded cheese on top of beans. Sprinkle soy chorizo on top of cheese. Spread sour cream very slowly on top of beef. Spread guacamole on top of sour cream. Pour salsa over guacamole and spread evenly. Sprinkle remaining shredded cheese. Sprinkle black olives, tomatoes, green onions  and cilantro on top. You can serve this dish immediately, or refrigerate it over night and serve cold.