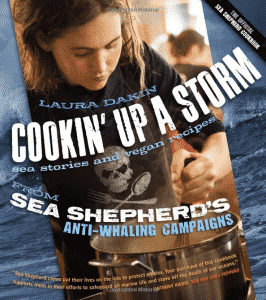 I adore Sea Shepherd and all the incredible things they do for marine life. Being such huge animal rights activists, it's no surprise they eat vegan on board and Laura Dakin, chief cook on Sea Shepherd's flagship the Steve Irwin, is sharing some of what they feast on at sea in a new cookbook!
The Sea Shepherd Conservation Society is an international non-profit marine conservation organization that takes an aggressive direct-action approach to ending the slaughter of endangered and threatened marine wildlife. Their official cookbook,Cookin' Up A Storm, serves up a combo of delicious food and modern day heroes.
Written by Laura Dakin, you'll share Laura's adventures in feeding a hungry crew of 50 morning to night. Featured are 80 of the crew's favorite vegan recipes-deliciously eclectic and modified for the family kitchen. Throughout are beautiful recipe photos along with action shots of the crew at work. Interspersed are crew members' stories that illustrate the danger these ocean warriors face stalking whaling vessels on the high seas.
The galleys of Sea Shepherd's fleet maintain a plant-based diet. Learn how a vegan diet can play a significant role in saving the biodiversity of our oceans. Sea Shepherd crews put their lives on the line to protect whales. Your purchase of this cookbook supports them in their efforts to safeguard all marine life and stave off the death of our oceans.
From breakfast to dessert, to an in-depth look at life on the open water with Sea Shepherd, it's a must have cookbook in your collection!