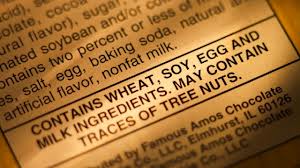 Burton Hohman is a student, a lover of travel, and a freelance writer for Hope Paige, a company that creates medical ID bracelets with style and function.  If he's not studying or writing, chances are you'll find him looking for his next travel adventure.
Sometimes, it's not easy eating green.
Vegetarianism and veganism seem to be on the rise in recent years, with 7.3 million of American reporting they adhere to a vegetarian diet, 1 million people living a vegan lifestyle, and nearly 23 million people saying they rarely eat meat. Recent reports that vegetarians live years longer than traditional meat eaters might bring some newfound popularity to what may have once been considered an unconventional way to live.
With all the benefits a vegetarian diet can offer, having a limited diet can make planning meals difficult. For most meal choices, there are meat-free or vegan substitutes that easily incorporate into meals, but what if you have a gluten or nut allergy? With March being National Nutrition Month, now marks a perfect time to examine your diet to ensure you're receiving all the nutrition you need, even if your diet is limited by food allergies.
Not sure how to best meet your nutritional needs? Here are some suggestions for vegans and vegetarians who also have food allergies.
Gluten-free alternatives
Good sources of gluten-free vegetarian protein are eggs, cheese, beans, soy, nuts and gluten-free quinoa (ensure it has not been exposed to gluten during the manufacturing process). Tofu, made from soy, is a great protein substitute for most dishes, and features 10 grams of protein for a serving size of half a cup. If you are looking for something a little easier to prepare, there are gluten-free veggie burgers or veggie dogs that are nutritious and require little prep time.
For lunchtime protein choices, vegetarians can enjoy peanut butter, almond butter or hummus served with vegetables, fruits, or gluten-free crackers. Hard-boiled eggs and yogurt are also excellent sources of protein. Dinner recipes can include polenta dishes or protein-rich quinoa pilaf, possibly even a gluten-free pasta dish.
Gluten-free vegetarians need to ensure they receive enough folate, B vitamins, iron, and calcium in their diet. By following a diet rich in gluten-free grains, fresh produce, protein sources (nuts, eggs, or beans), and low-fat dairy, most of these nutritional needs will be met. However, to supplement their nutritional intake, gluten-free vegetarians should take calcium and B12 supplements, in addition to eating proper levels of protein and fiber.
For vegans who must adhere to a gluten-free lifestyle, there are still ample sources of legumes, whole grains, nuts, and fruits and vegetables that provide levels of protein without featuring gluten. Ordinary Vegan features a list of gluten-free, vegan protein sources and the approximate levels of protein in each serving. Just as with gluten-free vegetarians, vegans who avoid gluten will need to ensure they receive proper levels of B12, iron, and protein.
Nut-free nutrition
Being a vegan or vegetarian with a nut allergy can provide its own set of problems, as nuts provide a substantial source of protein and are often considered a staple of the vegan and vegetarian lifestyle. Vegetarians with nut allergies can still enjoy eggs, cheese, quinoa, soy, and beans as protein sources to supplement protein that might have come from having nuts in the diet. Another alternative is garbanzo beans, often called chickpeas, that feature 15 grams of protein in a 1-cup serving (by comparison, 1 ounce of dry-roasted peanuts features 7 grams of protein).
For vegetarians who want another way to supplement their protein intake, Greek yogurt is a great alternative to regular yogurt and features up to twice the amount of protein as regular yogurt. Most varieties are also gluten free, and also contain fewer calories and sugar than their traditional counterparts.
To supplement the nutrients lost from having to omit nuts from your diet, include lots of whole grains in your diet. The USDA features a nutrient data library that will allow you to search what nutrients certain foods contain. Aim to include comparable sources of whole grains in your diet.