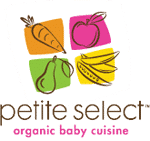 Even though I'm not a mommy yet, I'm in that state of mind ; ) Already preparing and researching
for when that time comes in the not so distant future. Knowing that I will only be feeding my kids the best of the best stuff
I love discovering all of these cool products.  Petite Select has a wide range of organic, 1 serving size meals and snacks.
While the only vegan option is the Mango Jambo, which is actually full of great stuff (all organic amaranth, mangoes, pears & bananas),
I will commend them for having nothing but organic, kosher and conveniently served food for those busy moms who could use a break but
don't want to compromise their baby's health.
Portions are packed individually for mobility (diaper bags, etc) and can be frozen.
My one warning is that even though the containers are BPA free, you should probably not choose to heat up the food in their containers in the microwave,
which I never recommend anyhow. Be sure to thaw out your portion, place in a safe container and heat as desired.
I vote for heating in a saucepan, always!