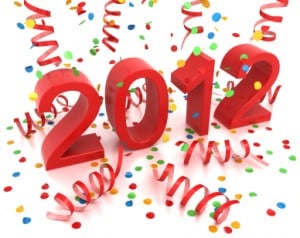 It's the last big party of the year, or the 1st big one of next year, depending on how you look at it. Either way, it's time for a grand fete and that means yummy food!  Impress your guests this year with these awesome finger foods to get the new year started on a tasty note!
Polenta Crisps
4 cups water
2 teaspoons salt
1/2 teaspoon freshly grated or ground nutmeg
1 cup fine grain polenta
1 cup vegan shredded mozzarella or nutritional yeast
Freshly ground coarse black pepper
2 tablespoons minced fresh thyme leaves
In a heavy saucepan, bring the water to a boil over high heat. Add 2 teaspoons salt and the nutmeg and reduce the heat to the medium. Add the polenta gradually, whisking constantly. Continue to whisk for 5 minutes as the mixture bubbles. Reduce the heat to low and cook, stirring occasionally, until the mixture begins to come away from the sides of the pan, about 10 minutes. Add 1/2 cup of the cheese, 1 teaspoon thyme and 1/2 teaspoon pepper and stir to combine thoroughly.
Invert a rimmed baking sheet on a countertop and cover the surface with parchment paper. Spread the polenta out with a spatula into a smooth, even layer. Cover the polenta with another sheet of parchment paper. Place another baking sheet, right side up, on top of the parchment. With 2 hands, press down evenly on the top baking sheet until the polenta is 1/4 inch thick. The idea is to sandwich the polenta between 2 flat surfaces. Refrigerate for at least 1 hour or up to overnight.
Preheat the oven to 375 degrees F. Invert the baking sheets together. Remove the top baking sheet and the top layer of parchment paper. The smoother side of the polenta will be facing up. Cut the polenta into triangle about 2 inches long by 1 1/2 inches wide. Transfer the triangles to 1 or more baking sheets, spacing them 1/2-inch apart. Sprinkle about 1/2 cup of the remaining cheese and the remaining thyme on top of triangles.
Bake the crostini until hot throughout and starting to brown, about 10 to 12 minutes. Turn the oven to broil and broil the crostini about 8 inches from the heat source until crispy and golden brown on top, about 3 minutes. Serve warm or at room temperature.
Winter Stew Shots
1/2 strip vegan bacon, diced
1 tablespoon extra-virgin olive oil
1 tablespoon unsalted vegan butter
2 shallots, chopped
2 15-ounce cans cannellini or other white beans, drained and rinsed
6 leaves fresh sage, chopped
4 cloves garlic, chopped
3 cups vegan chicken broth or vegetable broth
1/2 cup  vegan heavy cream ( 1 block of silken tofu (12-ounces) and 1/2 cup of plain soy milk. Blend in blender until thick and creamy and there are no more lumps )
1/4 teaspoon cayenne pepper
Kosher salt
3 slices crusty bread, toasted
2 ounces vegan cream cheese
Freshly ground black pepper
Fry the bacon in a medium saucepan over medium heat until halfway done, 3 minutes. Add the olive oil, butter and shallots and saute until soft, 6 minutes. Add the beans, sage, garlic and broth, bring to a simmer and cook 15 more minutes.
Transfer the mixture to a blender or food processor in three batches and puree until smooth. (Be careful-hot liquids are prone to explode when whipped!) Return the pureed soup to the pan and add the cream, cayenne, and salt to taste. Keep warm.
Smear the toasted bread generously with cream cheese and cut into 3/4-inch croutons. To serve, ladle the soup into shot glasses, top with cream cheese croutons and sprinkle with black pepper.
Pot Bellied Portabellas
16 baby portabella mushrooms (creminis)
1 pound vegan ground beef
1 teaspoon fennel seed, 1/3 palmful
1 small onion, finely chopped
3 garlic cloves, grated or finely chopped
1 lemon, zested
1 cup shredded vegan cheese (mozzarella)
1/2 cup breadcrumbs, a couple handfuls
1 10-ounce box frozen chopped spinach, defrosted and wrung dry in a clean kitchen towel
Salt and pepper
2 tablespoons olive oil
1/4 cup pine nuts or chopped almonds
Wipe the mushrooms clean with a damp cloth. Remove the stems and finely chop them. Preheat the oven to 400 degrees F. In a large mixing bowl, combine the ground vegan meat, fennel seed, onion, garlic, lemon zest, half of the cheese, the chopped mushroom stems, breadcrumbs and spinach and season with salt and pepper. Brush lightly with olive oil and stuff the mixture into the caps.
Arrange the caps on a rimmed baking sheet or in a baking dish. Leave some room around each mushroom to prevent the caps from getting steamy. Sprinkle the remaining cheese and the nuts on the caps and transfer to the oven. Bake until the mushrooms are tender and the filling is cooked through, about 25 minutes. Serve warm.
Custardy Cones
1 1/4 cups vegan marscapone cheese (recipe below)
1/4 cup vegan cream cheese, at room temperature
1/3 cup confectioners' sugar, plus more for dusting
1 teaspoon vanilla extract
1/4 teaspoon almond extract
1 teaspoon finely grated orange zest
1/3 cup finely chopped vegan chocolate (about 2 ounces)
6 vegan sugar cones
2 tablespoons finely chopped pistachios
Put the marscapone in a fine-mesh sieve set over a bowl. Refrigerate 30 minutes to drain.
Transfer the ricotta to a large bowl. Add the cream cheese, confectioners' sugar, vanilla and almond extracts, and the orange zest and beat with a mixer until smooth and fluffy, about 1 minute. Fold in 3 tablespoons chopped chocolate. Cover and refrigerate until thick and cold, at least 1 hour.
Transfer the mascarpone mixture to a resealable plastic bag. Snip off one corner and pipe the mixture into the cones. Gently press the remaining chocolate and the pistachios into the ricotta mixture. Dust the cones with confectioners' sugar.
Mascarpone Vegan Cheese
1/4 cup vegan heavy cream
1 tablespoon agar powder or arrowroot flour
1 cup vegan cream cheese
1/4 cup vegan sour cream
2 tablespoons Amaretto or 1 tablespoon almond extract
1/3 cup confectioner's sugar
2 teaspoons vanilla extract
Bring heavy cream to a boil in a small sauce pan and then dissolve the agar or arrowroot into it and allow it to cool to room temperature. Combine the cream/agar mix with remaining ingredients and whisk until well incorporated and fluffy. Cover and refrigerate for at least 3 hours. If it solidifies, just mix it up so it softens up before adding it to the "cake".