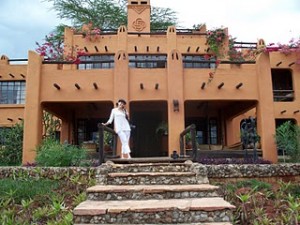 Continuing my adventures in Kenya, I spent a short time in Nairobi. I stayed at another Sarova hotel, The Stanley, and I went to a few places that really knocked my socks off. Again, impeccable service and great choices for little miss vegan! Just another reason, if you don't already have plenty, to make your next vacation destination Kenya!
So, as seen above, I attended an event at the African Heritage House. Owned by an American no less, this house and the grounds on which it stands, is pretty incredible. It had beautiful artifacts from all over Africa and it overlooked a vast Kenyan landscape. The event was catered by the Stanley hotel and again, I was quite happy with my belly stuffing lunch. Plenty of veggies, salads, rice and beans and all served with a smile ; )
Now this next place is probably the least likely place you would find me but it was part of my trip and was on the itinerary. The whole lot of us were taken to a celebratory party for Virgin at a new, hip place in town called Carnivore. Yeah, Carnivore!!! I and my 2 other veggie buddies on the trip were quite worried about starving that evening, however, we didn't!!! Their passed appetizers were ridonckulously good!!! Hand made pomme frits with a delicious avocado dip, yummy veggie samosas and veggie potsticker dumplings. Between handfuls of those, a nice helping of Dawa (kenyan mojitos!!) and dancing for hours, it was the healthiest, and most fun, night out I have had in a long time. My stomach did turn at the sight of the menu but I had to make do that evening and I did, quite nicely too! I guess don't judge a restaurant by it's name!! Check out Carnivore online ; )
On my next visit I intend on stopping by Chowpaty in downtown as it is veggie Indian food as well as Slush Limited (Parklands Road, Corner Plaza, Westlands, Nairobi (at Rank Xerox House)P:254-20-03751039). So many places to go, places to eat and so little time!!!
Until next time, Jambo!!!!