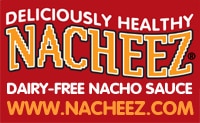 Holiday parties are about to start popping up left and right
and serving up the right food is key to having an awesome seasonal shindig.
Well, an awesome nacho cheese dip
is always a big hit
and Nacheez is the best out there as they are
100% vegan, gluten free and they offer both mild as well
as spicy options!
Check out my video review below!