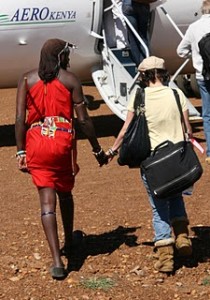 Maasai Mara, Kenya, was one of the most incredible places I have ever had the good fortune to visit. Beautiful landscape and breathtaking animals roaming everywhere but the part that will always stay with me was the wonderful people I met. The Kenyans and the Maasais were hands down the kindest people I have ever had the pleasure of knowing. I was lucky enough to be able to stay at the Sarova Mara Game Lodge and I can't express what a lovely time it was. And yeah, they took care of this finicky vegan!!
I was in Kenya documenting a charity project organized by Virgin Unite. Virgin and the Sarova Hotel chain joined forces to help build new dorms and other facilities for the Sekenani Primary School. It was a week of fun and hard work for those who were chosen to aid in the construction of the school and I was so excited to be a part of it all.
The Sarova Mara Lodge was paradise. Complete with a tropical pool, putting green, rustic bar and luxury tents, the Sarova knows how to make their guests feel special. On top of the serene accommodations, the the animals that roam the grounds are out of this world.
Prior to my trip, I was worried that my dining would consist of my stash of Luna bars, lots of bread and bottled water. I couldn't have been more wrong! The meals were all buffet style with numerous stations with every dish clearly labeled and this was the case whether we ate at the lodge or we had a special meal out in the bush or anywhere off site. There were always happy staff members around to answer any questions and they kept all of the veggie dishes on one side of the dining hall so I, as well as 2 fellow veggies on the trip, had no problems loading up our plates with local delicacies. There was always a delicious selection on rices, bean dishes (both Indian and African) and tons of veggies! Some days there was a stir fry or pasta station and I would load up on helping of freshly made goodness ; ) In addition, I was always able to get fresh juice or huge bottles of water to take with me for the day. Breakfast, lunch and dinner was always something to look forward to at the lodge because I knew I could always find something tasty and satisfying and it always came with a smile!
So the lodge was amazing, the food was delectable and the staff was extraordinary, need I say more? One more thing,if you do find yourself in this part of Kenya, make sure you spend time with the Maasais. I learned so much from them and made lifelong friendships. These people are so steeped in their traditions and yet live amongst a world filled with cell phones and internet without being swayed. Again, they are some of the kindest and happiest people I have ever come across and I look forward to visiting my new friends very soon. In the photo above, the Maasai chief, Ole Tira, walked me to the plane that took me away from one of my happiest adventures yet; )
(My friend Andrew Luck snapped this shot – Thanks!!)
For more information on the charity and others like it, visit Virgin Unite. And to check out the Sarova Mara Lodge, pop over to Sarova Hotels.