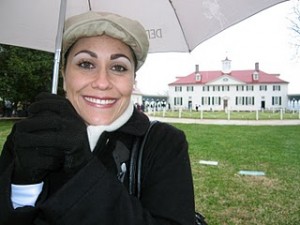 I thought I would throw in a nice historical park that has it's own dining facilities on premises. Mt. Vernon, George Washington's home, is beautiful and sprawling. The estate and presidential library as well as it's gardens and trails are enough to keep you there all day. Smart of them to have some options where we could refuel without have to set one foot off the park!
If you choose to have a fine dining experience or hold a special event on the estate, The Mount Vernon Inn is the right place. The quaint and cozy colonial like restaurant serves lunch and dinner daily while servers dress in costumes of Washington's time. The menu, much like the ambiance, is hearty colonial however, I was able to mess with the ingredients of the salads and charm the chef into creating a modern, less rich and more healthy meal, for me ; )
If you don't have the time or the coin to sit down at the inn, the food court had 4 places to choose from. The Federal City Deli offered up a veggie wrap and the Red Devon Grill had a juicy black bean burger on their menu. I was a happy camper when it came time to grab a quick snack as I knew leaving the park and hunting for a place to nosh would cut into our valuable sight seeing time.
Mt. Vernon is a must if you visit the D.C. area and you can plan your visit by logging on to their website.