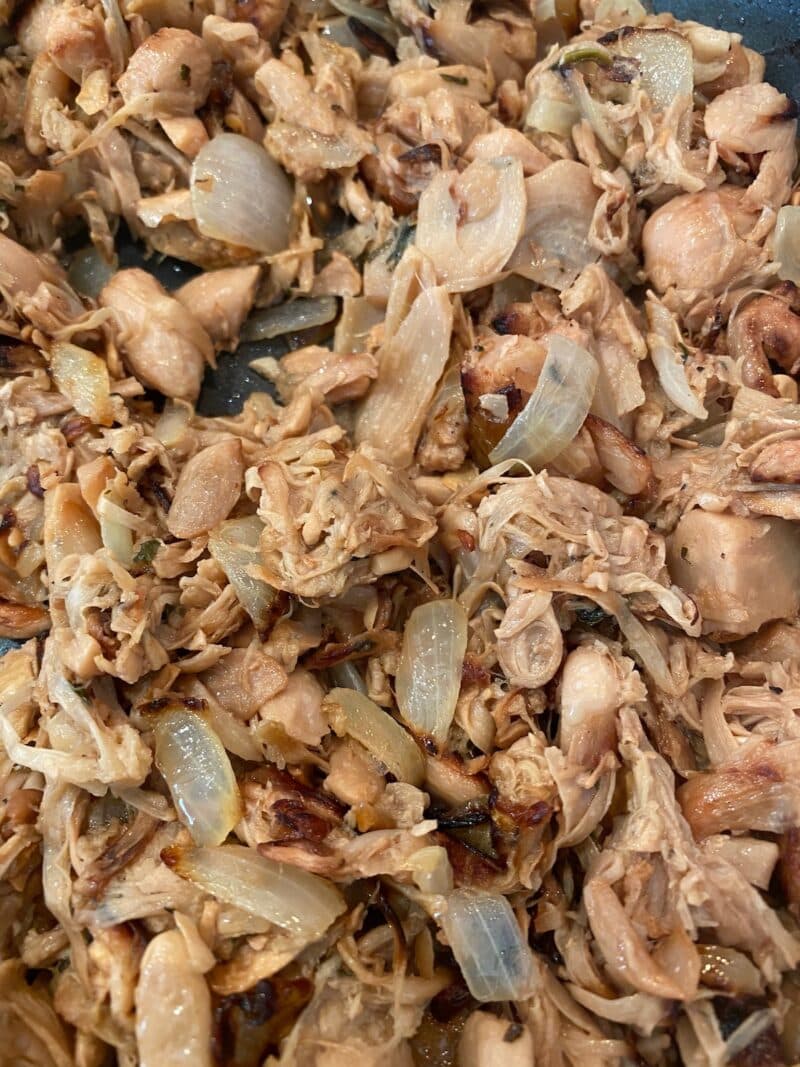 Being Colombian but raised in Miami where most of my friends were Cuban, I grew to love shredded pork. But having gone vegan 21 years ago, I had to change it up! And I did with this super tasty jackfruit version of a vegan mojo shredded pork recipe! Great any time of year, on holidays and even on sandwiches! Enjoy!
2 1/2 cups of "young" or "green" jackfruit (do not add in the water from the can) (about 2 cans (17-ounce), packed in water, not syrup)

Vegetable broth, enough to cover the jackfruit in the pot

Juice of 1/2 of a lime

Juice of 1 large orange

Juice of 1/2 a lemon

1 teaspoon dried oregano

1 1/2 teaspoons dried thyme

10 cloves garlic, minced

12 black peppercorns

Salt, to taste

2 tablespoons olive oil

1 medium sized white or yellow onion, sliced

3 cloves garlic, minced

Juice of 1 lime
Open the cans of jackfruit and rinse them with cold water to get rid of the brine. Shred it all and set aside.
Combine water, lime juice, lemon juice, orange juice, oregano, thyme, garlic, and peppercorns. Bring to a boil, then add jackfruit; lower heat and simmer, tightly covered, for about 1 hour, or until almost falling apart tender.
Add salt to taste, then let "meat" cool in broth at least 3 hours if not overnight in refrigerator. After refrigeration, remove "pork" from broth.
In a large skillet, heat olive oil to medium heat, add shredded "pork" and sauté until it is almost crispy, about 5 minutes. Add onion and garlic and cook another 10 minutes or so, until they begin to brown slightly. Squeeze in the juice of 1 lime and stir to combine all ingredients thoroughly.