We all know that breakfast is the most important meal of the day.
But with all the choices on our grocery shelves
how can we get the most nutritious bang for our buck?
Mix My Own has solved that problem!
With a giant array of healthy ingredients
for everyone from vegans to gluten free eaters,
fitness buffs to pick kids,
Mix My Own allows you to create your very own
personalized breakfast cereal or
granola with all the healthy stuff,
as well as tasty goodies,
you want in a breakfast!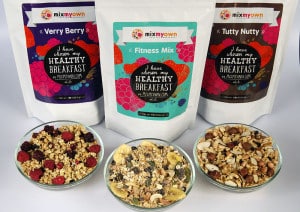 From ready made mixes for fitness to nut lovers,
you can grab bags of those
yummy combos as well as create your own.
It's fun for you, the whole family
and it's affordable!
With MixMyOwn.com, you have 100% control over your health. You get simple, clean food.
No unnecessary calories, no fillers, no extras, and nothing to get in the way of your day.
Choose tasty ingredients that make you excited to eat healthy while giving you that extra boost
to start your day right! Your breakfast will be unlike anyone else's at the table. Plus, you can feel good about what you eat.
MixMyOwn.com is nutritious, high in protein, full of fiber,
and, most of all, it's delicious! Since you get to include all the additions you want,
you will never have anything in your breakfast that you don't like.