*This Melt Away Holiday Stress with Sunbeam® article is sponsored by the Sunbeam® brand. All opinions are mine alone.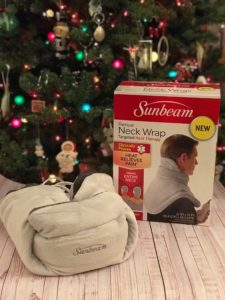 We are full swing into the holiday season! Hours of shopping, wrapping, traveling and general all-around holiday-ing can really take its toll on our bodies. While the season is merry and bright, it can be a bit painful too. That's why I am in love with my Sunbeam® Renue® Neck Wrap to help melt away my holiday stress!
Heat has been found as an effective, natural way of helping alleviate muscle pain and soreness. This neck wrap helps to relax muscles and promotes blood flow while the increased blood flow restores oxygen and nutrients to inflamed areas to help accelerate healing. Perfect any time of year to help provide pain relief from injury, stress, sleeping poorly, the strain of everyday activities as well as holiday over-merriness!
The Sunbeam Renue Neck Wrap is tailored to the shape of your body to provide targeted heat for maximum pain, tension, and muscle relief. Perfect after a long day of shopping or travel! Just sit back and relax!
One of the great characteristics of the Sunbeam Renue Neck Wrap is that it's adjustable and contours to the shape of the neck and upper shoulders with a magnetic closure to provide a high-level of concentrated heat for maximum relief. Most traditional heating pads are hard to keep in place, which defeats the purpose of trying to target the pain or muscle soreness. Again, once the Sunbeam Renue Neck Wrap is in place, turn on and relax!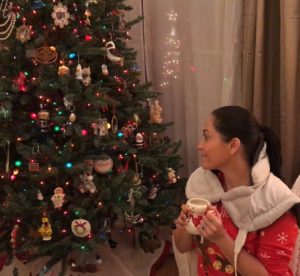 I love baking, wearing my cutest party heels to holiday parties and traveling extensively (sitting in traffic counts too!) throughout the holiday season, so when I got my Sunbeam Renue Neck Wrap as an early Christmas present this year, I couldn't be more excited! I just make a nice mug of hot cocoa, sit by the Christmas tree and watch festive holiday programs while my Sunbeam Renue Neck Wrap does all the work!
Does having a Sunbeam Renue Neck Wrap of your own sound like something you'd like to add to your wish list to Santa? Well, you could win one! All you need to do is be a U.S. resident and Tweet me @HealthyVoyager using the hashtag #TeamSunbeam and #ad and let me know why you'd want to win one!  Or, comment on this blog post for a chance to win.  Giveaway open through Sunday, December 31.
Good luck and here's to even happier holidays with Sunbeam!