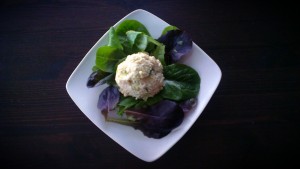 Having quick meals on hand is always welcomed for folks with busy schedules (outside of buddhists monks, I'd say that's everyone!) A tasty tofu salad can be incredibly versatile for easy lunches like wraps and salads or even as a snack with raw veggies or crackers. My buddies at Saffron Road Foods also know how time can be precious when it comes to cooking and agree that taste should not suffer due to lack of time. Their line of fantastic simmer sauces bring the flavors of the world to your kitchen without the hassle. Great for stir-frys and even innovative marinades, I took their Lemongrass Basil sauce and gave a new twist to a tired eggless tofu salad! Yum!
3 tablespoons vegan plain coconut milk yogurt
2 tablespoons vegan mayonnaise
1 packet Saffron Road Lemongrass Basil Simmer Sauce
Salt and pepper, to taste
1 14-ounce package extra firm tofu, pressed, drained and finely crumbled
2 stalks celery, finely diced
1/2 cup finely chopped green onions
14-1/2 crushed roasted, unsalted peanuts
In a medium to large sized mixing bowl mix yogurt, mayonnaise, simmer sauce, salt and pepper until well incorporated. Add in tofu, celery, green onions and peanuts until well coated and mixed.
Serve on fresh greens for a tasty lunch, between 2 toasted slices of whole grain bread for a hearty sandwich, a healthy wrap with fresh spinach or on crackers for fun finger foods!
Be sure to enter our Saffron Road Simmer Sauce Giveaway to try this healthy and delicious recipe for yourself!