I love coffee, especially cold brew. It's my morning jam and being a SoCal girl, I only get to enjoy hot lattes for a short time as it's always so warm here. So yeah, when a vegan cold brew comes along, I'm all ears!
Enter Kill Cliff, the most epic cold brew coffee ever captured in a can. It's coffee as coffee should be — Slow brewed for 24 hours from 100% super premium Arabica beans (the bigger, badder bean), Kill Cliff's killer cold brew is Fair Trade Certified™ so your conscience can feel good with each sip.
With flavors like Epic Mojo (unsweetened), Sweet Mojo (lightly sweetened) and Mojo Rising (lightly creamed and sweetened), you can grab a tasty pick me up in any style you want! And the best part? They are dairy free and made with stevia and erythritol! So you can watch your waistline, stay off dairy and caffein-ate guilt-free while on the go!
For my readers, Kill Cliff is offering a 15% Off Promo/Coupon Code: HEALTHY15  (Be sure to use at check out)
And one lucky winner will win a 3 Month Subscription of Kill Cliff Cold Brew Coffee (one case per month)
in the winner's flavor choice (the subscription is for one flavor – not a different one each month)!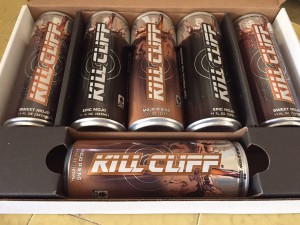 How to enter our Kill Cliff Cold Brew Giveaway:
Leave a comment telling us why you would love to win the subscription!
Be sure to leave your email address so that we may contact the winner.
Please like us on Facebook
Please Follow us on Twitter
Share this contest with at least 1 other person
Winners will be chosen on Monday, September 28th by random.org.
Deadline for Entering is 11:59 PM PST, Sunday, September 27th.
Good luck!!
xoxo
**We do not share your email with anyone nor do we add you to our mailing list
**Only entries from the USA are eligible to win**