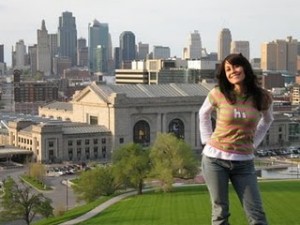 Who knew that the city known for it's steaks and bbq would be so darn tasty for health nuts like me!! I was floored with what's called "The Paris of the Plains". Every place I stopped at had healthy choices and they were more then happy to accommodate me and my crazy ways of ordering ; ) The city is growing and has a lot to see and do so if you are planning a trip, bring your appetite!
The first place we stopped into was Figglio's in the Plaza. It's a cute Italian place perched on the 2nd floor and overlooks one of Kansas City's most famous fountains. I got a tasty pasta dish and loaded it up with veggies along with a yummy glass o' wine. Figglio's on the plaza is a great place to pop into after doing some shopping around the Plaza.
The next day I almost fell out of my booth at Waldo Pizza. It was one of the best vegan pizzas I had ever had and it was in a regular pizza joint. My pals split a pie while I kept the vegan one all to myself. I ordered it on gluten free and dairy free thin crust and covered it in awesome veggies from artichoke to broccoli and all in between. They offered soy cheese and vegan cheese which I thought was super cool and the establishment itself is super cute. Outside of downtown, Waldo Pizza is worth the drive.
Later that evening, we all made out way into McCoy's Public House. It's a microbrewery bar & grill in the hip Westport area. What could I eat besides a plain old salad at a microbrewery you ask? Plenty!! They had vegan items on every page!! A black bean burger, veggie stir fry, the vegan wrap (which I ordered and was so sad when I finished it because it was scrumptious!) and more. They mark all of the veggie items on their menu and I was so stoked to find a fun, hip bar & grill where I could really chow down and my friends could too. Salivate and giggle over the menu at McCoy's.
On my way out of town, I went to Blanc Burger, based on a recommendation by our server, Jason, at Figglio's a few nights previous. This ultra cool burger joint had one of the tastiest veggie burgers I'd every had. It was called the spicy lentil burger that I ordered without the yogurt sauce and got it as a lunch special with sweet potato fries. Holy smokes!! It was the bomb. The owner of Blanc also co-owns another hip spot called The Drop, not to far from Blanc. It is a bar and restaurant that offers fresh foods soups and salads as well as being known for some killer bruschetta. Look up The Drop online and check out Blanc at 419 Westport Rd. Kansas City, MO 64111 (816)931-6200.
Since I was only in town for a short time, I missed a few more places I wanted to try but I know I will be back and when I do, I'm walking everywhere to work off all the treats!!