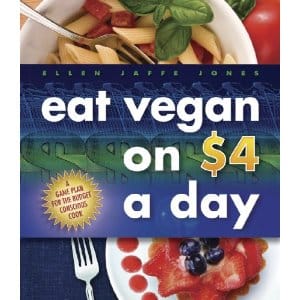 Ah-ha, as I've always said and continue to promote,
a plant based diet is affordable! And Miss Ellen Jaffe Jones has put together
the proof in Eat Vegan on $4 A Day!
In fact, with her full meal plan, it actually comes out to even less.
Healthy, tasty AND affordable, how can anyone resist?
Check out some of these
daily menus and how little they cost:
1) Breakfast – Hot whole grain cereal
Lunch – Hummus and pita sandwich
Dinner – Beans and greens stir fry with brown rice
Snack – Fruit smoothie
Total $2.25
2) Breakfast – Chorizo flavored scramble
Lunch – Lentil soup with brown rice
Dinner – Quesadillas with beans and polenta
Snack – Berry smoothie
Total $4.00
And beyond the plans, the book is full of tasty and simple recipes that won't cost you
your life savings, each showing you how much it will cost per serving:
Sweet potato muffins
Stone soup
Strawberry and citrus salad
Noodle casserole
Quinoa loaf
Black bean burgers
Tacos
Veggie sushi
Sweet potato skins
Apple crisp
Blueberry tortilla pizza
Chocolate almond smoothie
And more!

Time and money saving, healthy food is abundant in this fun collection of vegan yummies!