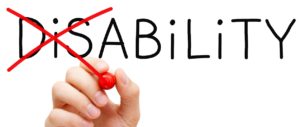 As of the most recent figures released by Pew Research in 2017, there are as many as 40 million Americans living with disabilities. Some of these are severe enough to render the disabled person unable to work a full-time job, and others who are more fortunate, can work through their disability. If you are suffering from a disability severe enough to affect your quality of life, it's time to learn how to cope with your particular diagnosis.
Is Pain a Symptom or the Disability?
Right from the very start, it's important to note that many people state they have a "pain-related disability." That is only true to a certain extent. Pain is the result of something and it is that "something" which is, in fact, the disability. While everyone knows that being legally blind is categorized as a disability as are such things as amputations and certain diseases, pain doesn't really fall into that category.
This is not to say that pain doesn't render you immobile, but it isn't the root cause of the disability. Now that we've established that, it's time to look at how to cope with the pain of disabilities. Remember, not all pain is the result of a common injury or disease, but pain is a common factor within most disabilities. It's an important distinction to understand.
Spinal Pain Is a Common Denominator
When you are suffering from severe back pain, it's hard to think about the condition that causes the pain. All you know is that you want relief and you want it yesterday. You can't do the things you once did and sometimes even caring for yourself becomes a real issue. According to Dr. Rishin Patel of Insight Medical Partners, more doctors can make affordable services available to their patients with just a few tweaks to the way they are currently providing healthcare.
Spinal pain, for example, can be treated in a number of ways but if it renders you unable to move and get around as you used to, it is considered to be debilitating. He recommends that more doctors become familiar with Durable Medical Equipment so as to prescribe ways and means to alleviate pain while helping patients gain some amount of mobility. DMEs from canes and walkers to hospital beds can offer a huge amount of relief.
In the End You Just Might Need to Learn How to Cope
There are patients who have found relief with such things as hip or knee replacements while others may not benefit from surgical procedures. Sometimes there is nothing to be done except learn ways to cope. Talk to your doctor about devices which can help you gain mobility or support the lower back so that you aren't in as much pain.
You may even need to force yourself to 'live' through the pain which has rendered you housebound for a long period of time. And, believe it or not, you really can have fun living with a disability! With the aid of DMEs and certain pain relief medications, you can learn to cope even though you may not be able to relieve 100% of the pain. Talk to your doctor about what you can do to find relief if nothing you've tried gave results. Where there's a will, there's a way and you can learn to cope if you find the 'way' that works for you.