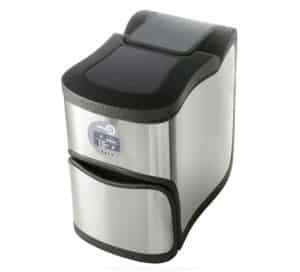 One of the most effective ways to reduce kitchen waste in your home is through composting, especially if you do a lot of cooking. Home composting might seem daunting, but it is easy, once you get the setup right and get going. When you are able to compost food and other items from your kitchen, you will notice that the amount of trash coming out of your kitchen goes down dramatically. Here's how to get started.
Why Compost?
You might be asking what the point of composting is. While it reduces the amount of garbage that comes out of your kitchen, it has other benefits as well, mostly when it comes to gardening. In truth, composting is a budget-friendly way of producing nutrient-rich food for your garden.
When you send your compostable foods to a landfill inside of a garbage bag, those materials cannot break down naturally, as they would have in a compost bin. Unfortunately, this can cause methane to form, which adds to the greenhouse gases that are damaging our atmosphere.
Buy a Composter
Once you understand what you can compost, you will need to get a composter, which is a safe location that you can put your discarded kitchen items. Compost tumblers have barrels that you can rotate and are typically made out of recycled plastics, which can be helpful in keeping the contents of the barrel contained.
According to DisposalZone, you should be able to easily turn your compost tumbler. If a tumbler is difficult to turn while it is empty, imagine trying to turn it when it is full of kitchen waste. It might be a good workout, but it also might be frustrating.
If you have more room or a yard, you might be able to try out backyard composting. You need a dedicated location to pull this off and will need to keep the compost wet and stir it often. The biggest risk with backyard composting is that if you live in an area with wildlife, they might be drawn toward the smell of your compost.
Knowing What to Compost
To begin your journey of composting, you will first need to know what items you can compost. While you might be surprised about how much is compostable, you still need to know what cannot be compostable. You can compost a variety of items from your kitchen and home, beyond your everyday kitchen scraps. The Environmental Protection Agency has a simple list to help you know what to compost, which includes:
Fruits

Vegetables

Coffee grounds

Paper coffee filters

Tea bags (though some brands are not compostable, so check first)

Leaves

Newspaper

Nuts and shells

Paper

Cardboard

Grass clippings

Plants

100% cotton or wool fabrics or rags

Hair and animal fur

Fireplace ashes
There are still many items that you cannot compost that you should keep in mind as well, such as:
Charcoal ash contains elements dangerous to plants.
Meat scraps, fish bones, dairy products, eggs, and fats will attract rodents and flies in addition to causing foul odors.
Dog poop, cat poop, and dirty cat litter all could contain bacteria or parasites that are harmful to humans.
Grass trimmings or yard debris that has been treated with pesticides can destroy the nutrients in the compost.
Diseased plants that can pass their sickness onto any future plants you might try to grow with the compost.
Black walnut tree sticks or leaves are harmful to plants.
Magazines contain harmful chemicals that could damage your plants.
Any type of plastic item or an item that might contain plastic will not break down.
The Formula
There is a science to getting the mix right in your compost in order to get the nutrients that you want in your homemade soil. Too much of one thing will not serve you well. Really, composting requires a combination of three types of compostable materials:
Greens: By greens we mean grass clippings, vegetables, fruits, and even coffee grounds.

Browns: Browns include parts of trees that are not edible, like sticks, leaves, and branches.

Water: Water is essential to the compost formula as it helps everything breakdown together.
You need about equal parts of green and brown ingredients to get the soil right. Greens emit nitrogen, which is important when you are growing fruits and vegetables. Browns help add carbon to the soil to further enrich it. The water helps break everything down.
If you don't Garden
Not everyone has the time, space, or means to have a garden in the home. Even if you do not have a garden, composting is still an environmentally friendly way to dispose of food scraps. But what do you do with compost if you are not using it for a garden once it is in its final form? Here are some ideas:
Ask your friends or family: First, check with your friends or family members who might have a garden. 

Make friends with a gardening neighbor: Maybe one of your neighbors has a garden and would appreciate the compost.

Look for a community garden: Some schools and neighborhoods run community gardens and are likely to appreciate the soil.

Look for local farms: In addition to community gardens, there are urban farms popping up all over the place who might appreciate the compost.

Put it in your houseplants: If you do not have an outdoor garden, but have houseplants, give it to your plants. They can also benefit from nutrient-rich soil.

Hire a compost service: If all else fails, you can hire a curbside compost service to come take It away for you. It is offered as a public service in many cities, in addition to recycling and regular trash collection. In case it is not where you are located, there are also private companies that will take the compost for you for a small fee.
Outside of composting, there are many other ways that you can become eco-friendly. Every step that you take toward reducing your carbon footprint can help improve the Earth's health.