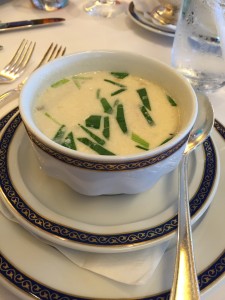 One of the most fun parts of cruising is the incredible dining options. You can dine some place new every day and never have the same thing twice! And on the Eurodam, the food is terrific and for a special diet cruiser like me, it was a cinch to find delicious vegan options!
Main Dining Room  – For breakfast, lunch and dinner, the main dining room is always open. With global cuisine, there is great variety at each meal and if you are vegan or vegetarian, they have an extensive menu to choose from!
Tamarind – Hands down, my favorite dining experience (and bar!) on the ship! With delicious Asian fare, there are so many options for all sorts of diners!
Cannaletto – The Italian eatery on board, it's family style dishes so everyone can share. But my zucchini pasta was so freakin' good that I refused to share, haha! 
Pinnacle Grill – The high end dining experience on the ship, mainly a steak house, they are wonderfully accommodating to special diet guests. In addition, Pinnacle Grill is home to the Le Cirque pop up restaurant one night a week!
Lido – Center ship, Lido is the fun buffet dining option. From pasta and salad to sandwiches and tacos, serving up all sorts of custom food breakfast through dinner, Lido is always an option for the finickiest eater!
Dive In – A cool burger joint located by the main pool, they've got fun food, including a yummy portobello burger, for fun loving diners!
Plus, if you're feeling peckish late at night, 24 hour room service is also available! It goes without saying that finding something to eat aboard the Holland America Eurodam is never a problem!