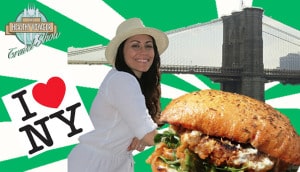 It's here! Another fun and exciting episode
of The Healthy Voyager Travel Show!
This time, I'm in New York City!
Join me as I check out delicious healthy, vegan and gluten free foods in and around the Big Apple, NYC!
From the eco-friendly Intercontinental Hotel to vegan ice cream at Lulu's,
Seitan Picatta at Candle 79 to spring rolls at Gobo and more, your tastebuds
will be lighting up like Times Square!
Watch it below!