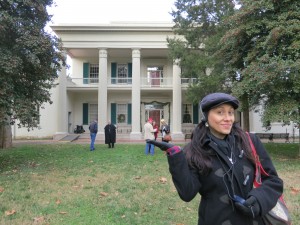 So for history buffs like me, Hermitage is a must on the travel list. Just outside of Nashville, Hermitage was home to President Andrew Jackson. A sprawling landscape complete with horses, cows as well has his original cabin and final home. It's a great day trip, stepping back in time in our nation's history, as well as scouting out local eats!
If you are looking to spend the day at the home and museum, it's always fun to pack a great picnic lunch. If you're coming from Nashville, be sure to check any of the places I mentioned in my first and second posts on the city. Or give Whole Foods a shot for some sandwiches and treats for your day trip!
If your traveling with a group, pizza is always a good option. Gondola House is just the place with ample seating and an easily veganizable menu. Get a cheeseless veggie pizza or for those who are gluten free or watching their waistline, veganize a salad. It smells great as soon as you walk in so pop into the Gondola house before or after your visit to the Hermitage!
If you're in search of lighter fare, check out Sakura Japanese restaurant. Lots of veggie roll options, tofu and veggies, it's a healthy option that won't weigh you down while walking around President Jackson's abode. Check out their menu here!
If you're looking to unwind with a margarita, be sure to check out Palmas Verdes. Great margaritas, chips and salsa, treat yourself to veganized veggie fajitas or a burrito! You can find them 5104 Old Hickory Blvd in Hermitage, (615) 871-9700.
Hope you enjoy your time in Hermitage!